Home of Wargamers 2021 Live anunciado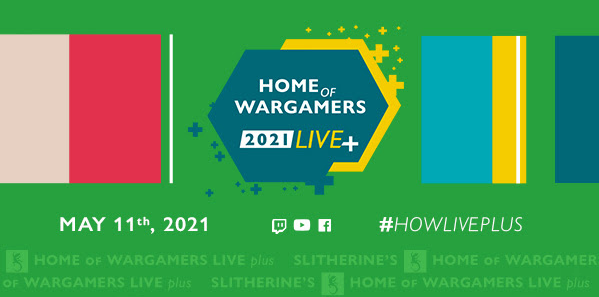 Epsom, 15 de abril.
Todos los apasionados fans de los juegos de estrategia están invitados a unirse a Slitherine en un día lleno de presentaciones, ideas, anuncios y partidas en directo: una oportunidad de mirar hacia el futuro de la compañía. Una compañía que se ha convertido en el hogar indiscutible de los Wargamers.
Home of Wargamers LIVE+ 2021
se ha anunciado hoy durante Tea Time, el programa semanal de Slitherine que se retransmite en Twitch todos los jueves a las 5pm hora peninsular española. El director de marketing Marco Minoli ha proporcionado algunos detalles sobre este nuevo evento, confirmando que se llevará a cabo el 11 de mayo. Será totalmente en streaming y, por supuesto, gratuito para todos.
"Slitherine está creciendo a un ritmo rápido: franquicias como Warhammer 40,000 Gladius, que ya ha vendido más de un millón de unidades, Battlestar Galactica Deadlock y Panzer Corps 2 son la punta del iceberg que también incluye el wargame más grande jamás producido, War in the East 2, "el mejor juego 4X de 2020" Shadow Empire, el éxito en ventas ICBM y muchos muchos más ", dijo Marco Minoli.
Con Warhammer 40,000 Battlesector, Starship Troopers Terran Command y Distant Worlds 2 que verán la luz a lo largo de 2021, hay mucho por delante, pero no será lo único, en este momento hay quince juegos no anunciados en desarrollo en Slitherine, y cuatro de ellos se darán a conocer el 11 de mayo en Home of Wargamers LIVE+ 2021.
Slitherine mostrará todos sus juegos programados para 2021. Eso incluye el muy esperado Warhammer 40,000 Battlesector y Starship Troopers: Terran Command y el largamente ansiado Distant Worlds 2. Solo con esto ya sería un evento repleto de acción, pero no es todo, hay mucho más aún. Aunque todo a su tiempo, revelaremos más información a medida que se vaya acercando la fecha.
Suscríbete ahora al canal de Twitch de Slitherine
www.twitch.tv
/ SlitherineGroup y asegúrate de no perdértelo.