STRATEGIC COMMAND WWII: WAR IN EUROPE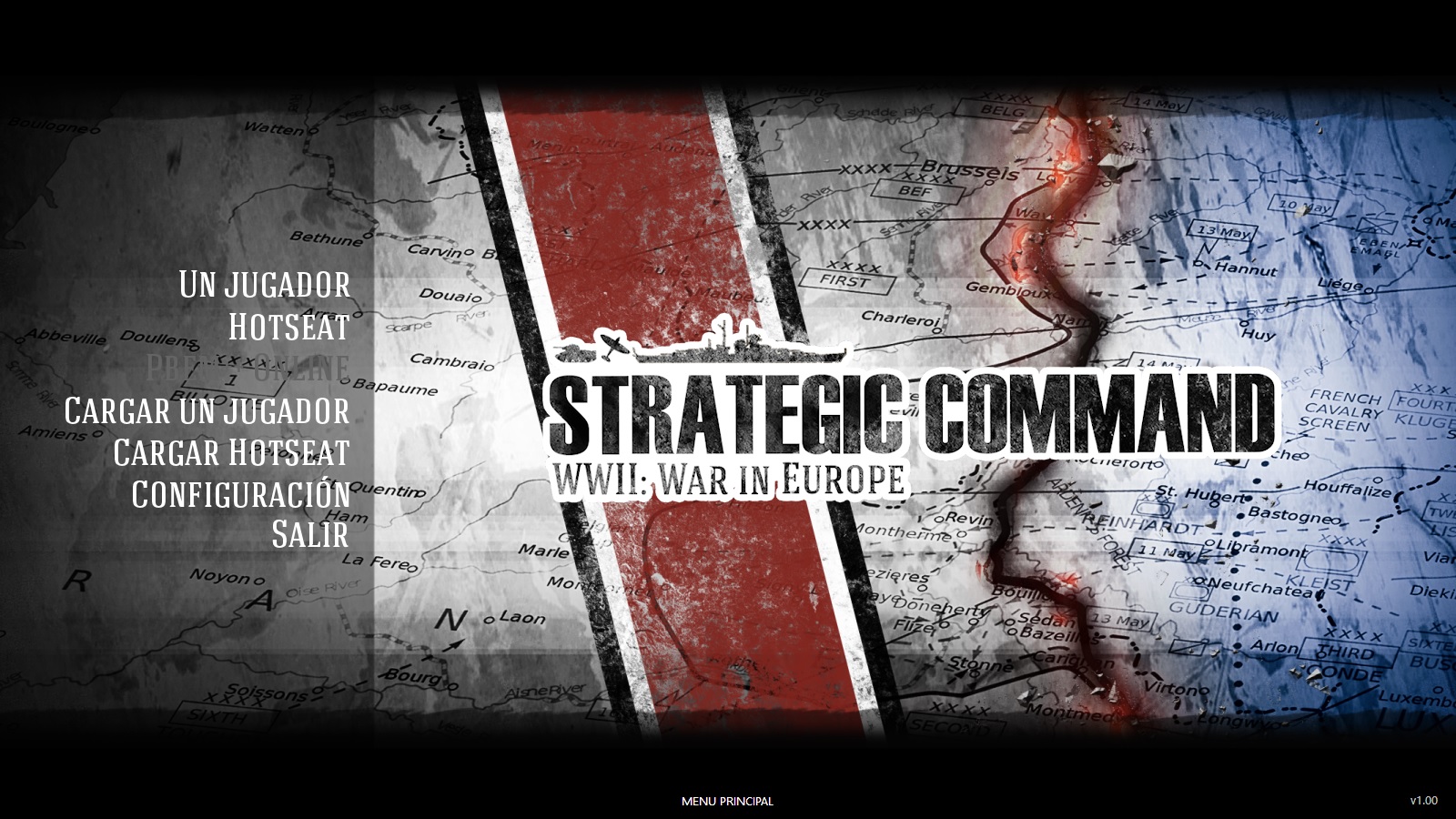 INTRODUCCION
Si tengo que definir el juego con unas pocas palabras, serían estas: la elegancia de la simplicidad. Pero ¡ojo!, no quiero decir que sea un juego simple, sino que las mecánicas del juego son simples. Eso hace que sea bastante intuitivo y peligrosamente adictivo.
Si os preguntáis ¿con qué juego podríamos compararlo? Mi respuesta sería con dos (o dos y medio).
En PC la comparación es obvia (o más bien la inspiración), ya que en el propio manual del juego se le nombra de forma destacada: es un estilo al juego de estrategia militar de la 2ª Guerra Mundial en Europa Clash of Steel (o COS) de SSI, de los años noventa. Parecido en temática, parecido en simplicidad de mecánicas, parecido en adictividad.
Si tuviera que compararlo con un juego de tablero diría que me recuerda bastante al Rise and Decline of the Third Reich (o símplemente Third Reich) de Avalon Hill. Juego de estrategia militar de la 2ª Guerra Mundial en Europa. Pero tiene algunos aspectos mucho más desarrollados que el Third Reich. Así que en una hipotética escala de juegos de tablero míticos de este tipo pondría al Third Reich en la base, el Strategic Command WWII por encima del Third Reich, y el WiF (World in Flames) por encima de este. En resumen, el juego es a nivel estratégico representando la 2ª Guerra Mundial con más detalle que el Third Reich.
Sé que las comparaciones son odiosas, pero es para que os hagáis una idea del tipo de juego que es.
¿Nos hemos situado ya?
Para aquellos que no conozcan los juegos que uso como referencias, os explico:
Este juego representa desde un punto de vista estratégico la Segunda Guerra Mundial durante los años 1939 a 1945 en Europa, empleando el aspecto militar principalmente, pero también la producción de guerra, la diplomacia y la investigación.
La escala es de 20 millas por hexágono (unos 30 Km). Los turnos tienen una duración variable, duran 7 días en verano, 11 en primavera y otoño y 21 días en invierno. Las unidades son cuerpos de ejército y ejército (entre 2-4 divisiones como media), aunque hay divisiones independientes, y en ocasiones brigadas. La brigada no es una unidad adecuada para los escenarios que presenta el juego, pero como el juego viene con un potente editor, dan la posibilidad de usar brigadas para escenarios que pueda crear la comunidad (ya que su uso dependerá de la escala del escenario que se diseñe). Eso sí, en Polonia aparecen brigadas, supongo que por razones históricas.
Las unidades aéreas son flotas o fuerzas aéreas, y las unidades navales son flotillas navales alrededor de un buque principal. Hay unidades especializadas como antitanques, antiaéreos, ingenieros (de construcción), guarniciones, que no son un tamaño específico, sino más bien unidades que representan una agrupación importante de estos tipos de unidades (por poner un ejemplo real, los alemanes en Normandía tenían desplegado un Cuerpo Flak que emplearon como unidad antiaérea y como unidad de combate en tierra aprovechando la versatilidad de estos cañones; otro ejemplo serían las masas de baterías antitanque que desplegaron los rusos en Kursk durante la batalla de verano de 1943).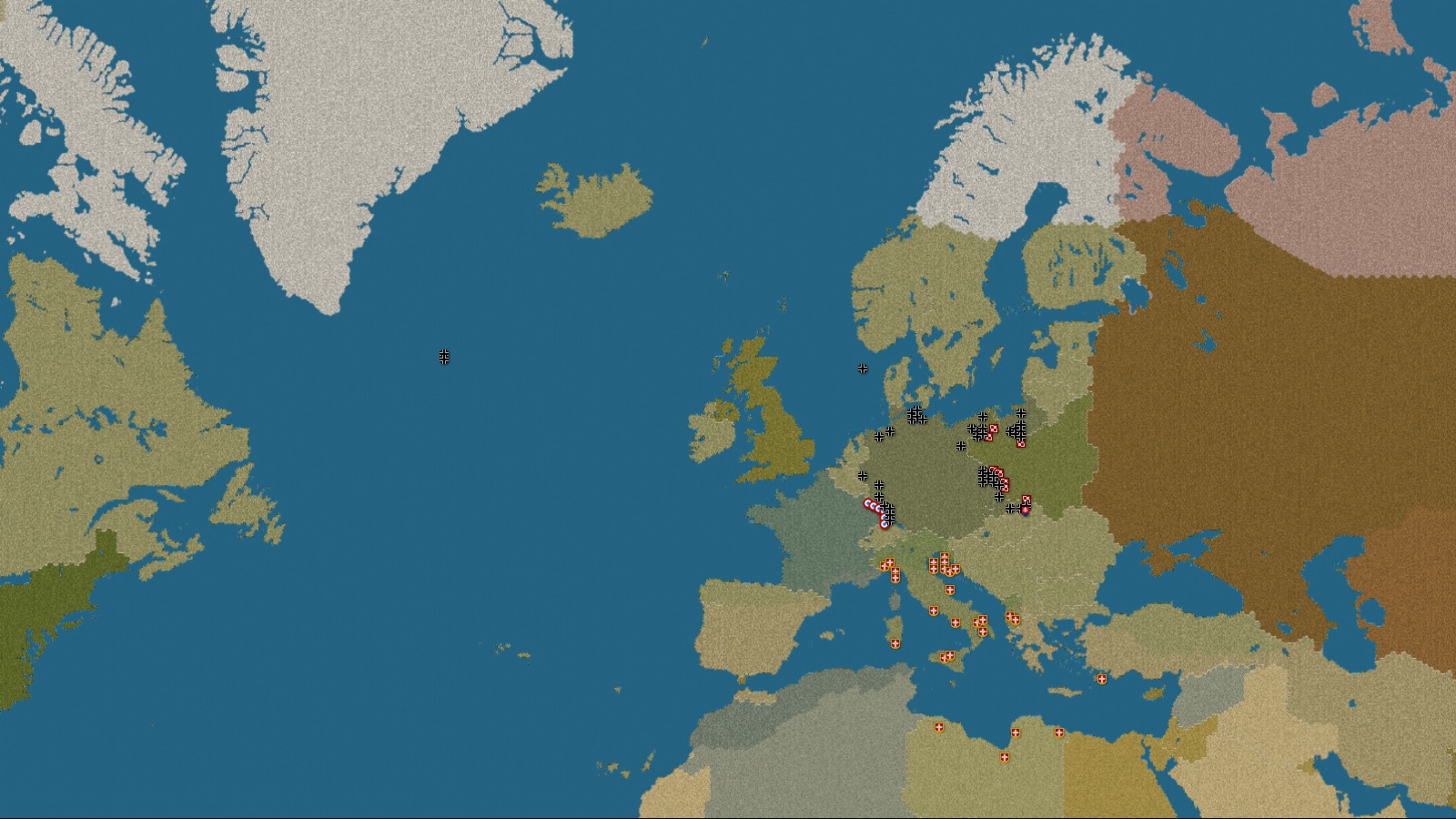 El mapa representa desde las costas de Norte América en el oeste, hasta más allá del Caucaso por el Este; y desde Murmansk en el norte hasta más allá de El Cairo por el sur.
Puede elegirse jugar con el bando del Eje (con Alemania e Italia como potencias mayores) o de los Aliados (Francia, Gran Bretaña, y posteriormente la URSS y los Estados Unidos).
TIPOS DE UNIDADES
Los tamaños de unidades varían, así como los tipos de unidades disponibles.
Os describo las principales (os pongo además imágenes de algunas de mis unidades veteranas con su historial de batallas y campañas):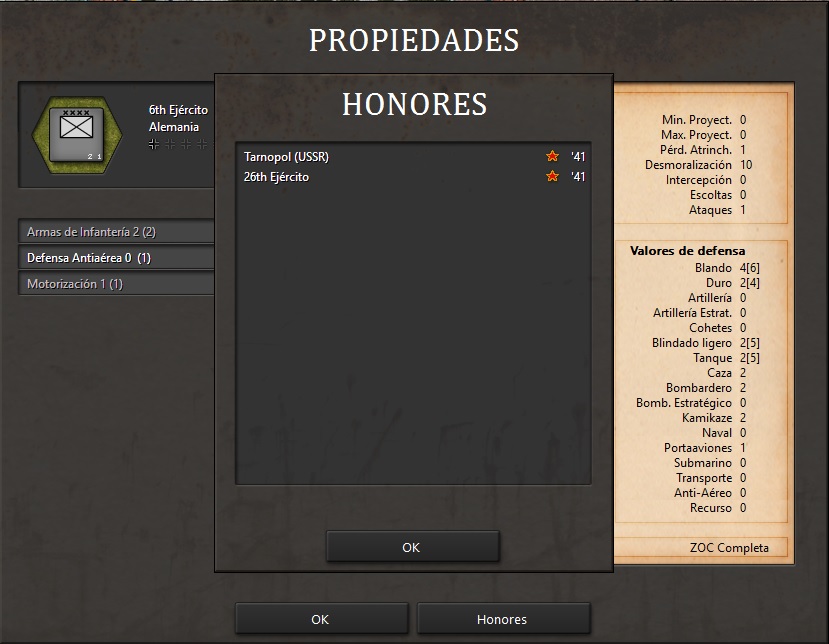 Divisiones, Cuerpos y Ejércitos de Infantería:
Son los tipos de unidades principales. Los Ejércitos son más potentes que las demás, pero los Cuerpos son fundamentales, porque son unidades más "baratas" de reclutar, tienen un valor de combate aceptable y van a necesitarse muchos para cubrir el frente.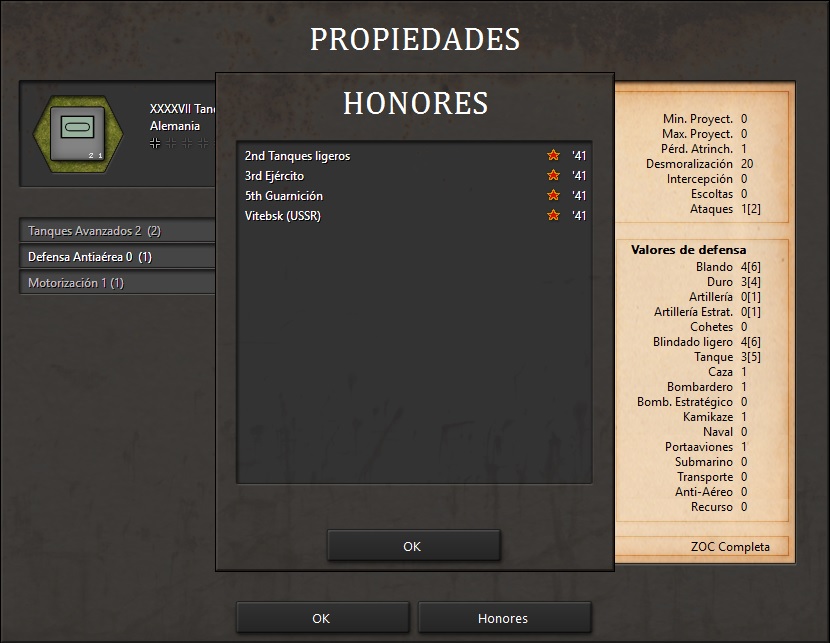 Mecanizadas y Tanques:
No tienen un tamaño específico. Serían grupos acorazados o mecanizados (Cuerpos, Grupos Panzer, Grupos Móviles, Ejércitos). Lo principal aquí no es el aspecto cuantitativo, sino el cualitativo. Son fuerzas móviles, con unidades blindadas. El caballo de batalla de la Segunda Guerra Mundial. Ideales para liderar las ofensivas o para apuntalar las defensas. Una mínima inversión en investigación permite a estas unidades atacar dos veces convirtiéndolas así en un arma formidable.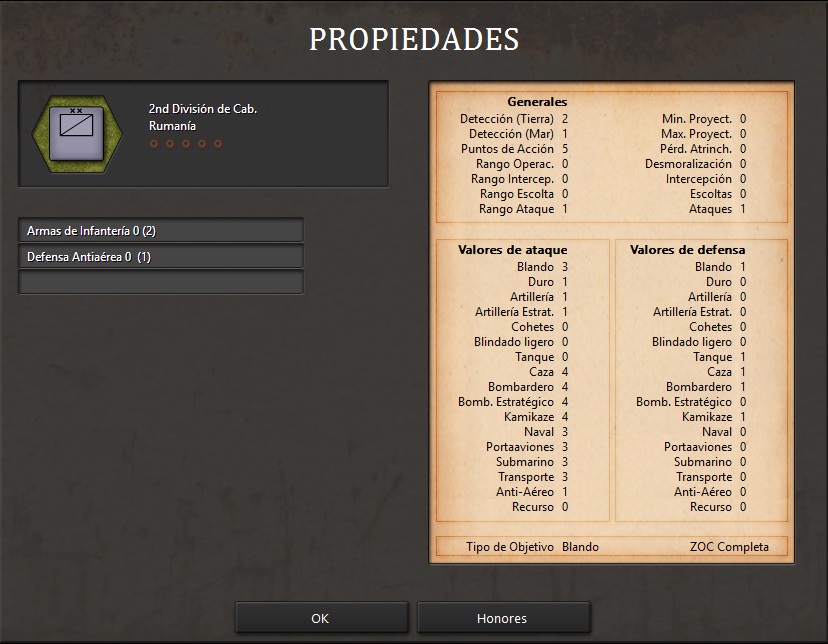 Caballería:
Caballería (sí, para aquellos que no lo sepan, el caballo se utilizó masivamente durante la Segunda Guerra Mundial, sobre todo por los alemanes y los rusos). Fuerzas más móviles que sus equivalentes de infantería, aunque menos fuertes que estas. En frentes como el ruso es un arma bastante útil.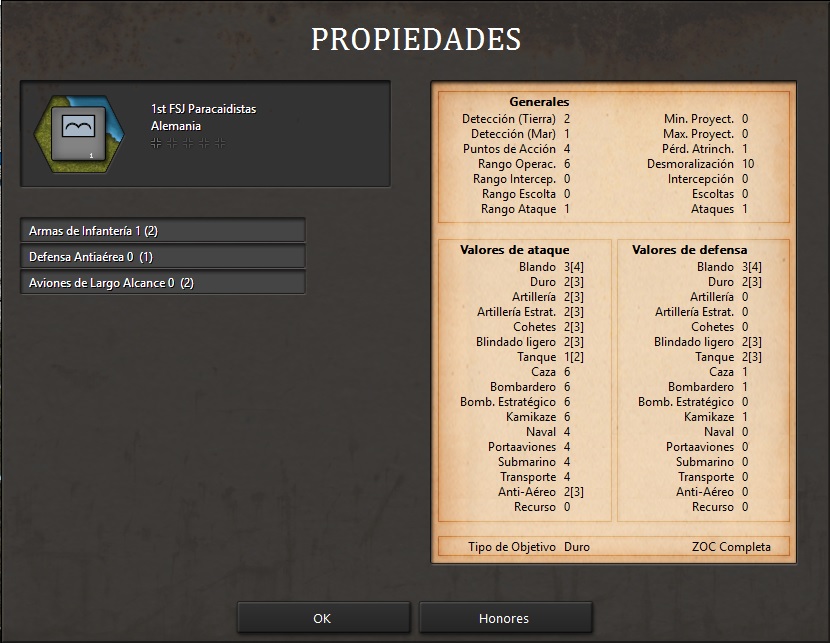 Paracaidistas:
Fuerzas de infantería de élite con capacidad de ser lanzadas detrás de las líneas enemigas tras un periodo de preparación (ejemplos hay muchos: paracaidistas alemanes en la campaña de Francia de 1940, asalto aéreo en Creta, Normandía, Market Garden, o las Ardenas son los más conocidos. Fuerzas paracidistas fueron lanzadas también en el norte de África para reforzar a Rommel, y en el frente ruso también se utilizaron por los soviéticos).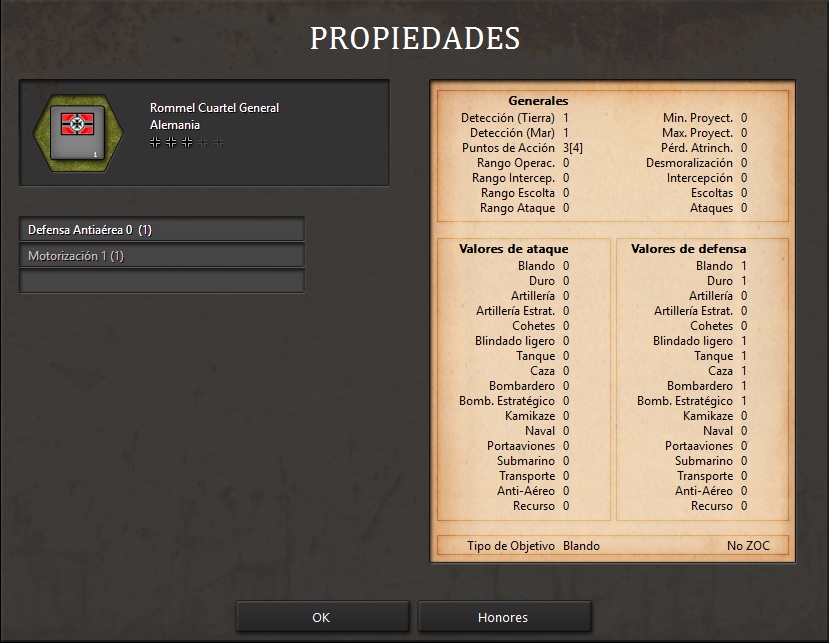 Cuarteles Generales:
Unidades de un valor tremendamente importante. Facilitan el suministro, y dan bonus de combate a las unidades bajo su mando. Podrían representar a los Grupos de Ejército (o Frentes rusos), ya que puedes subordinarles hasta 5 unidades (puedes ponerlas tú manualmente, o dejar que la IA asigne las unidades en función de la situación del frente).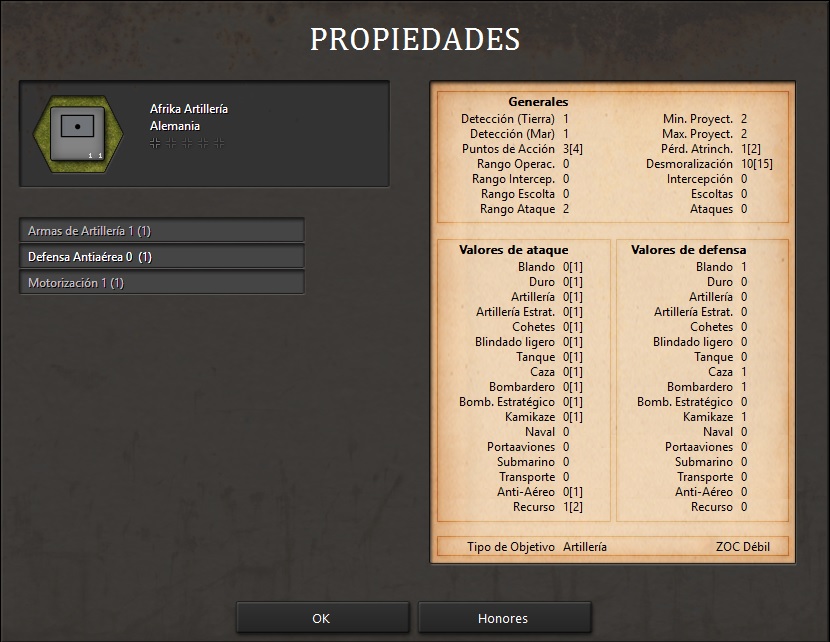 Artillería:
Agrupaciones de artillería (Cuerpos de artillería) y cohetes (Werfer Korps y Katiuskas). Unidades que pueden atacar y apoyar las defensas a distancia. También hay trenes blindados y artillería móvil por ferrocarril (cañones pesados de asedio).
Otras fuerzas de tierra:
Fuerzas especiales que son unidades de infantería de élite tipo Rangers, comandos, etc con la habilidad especiales.
Antitanques y antiaéreos que son unidades de artillería especializada en el combate contra fuerzas blindadas o aéreas.
Ingenieros que permiten formar líneas defensivas de importancia estratégica.
Fuerzas de reconocimiento que son unidades móviles, no demasiado potentes con una mejor capacidad de detectar al enemigo, fundamentales en frentes como el del norte de África, por ejemplo.
Guarniciones: unidades militares de retaguardia con funciones de seguridad, sin grandes capacidades de combate.
Partisanos: unidades enemigas que pueden aparecer en la retaguardia representando movimientos de fuerzas rebeldes organizadas para hacer frente a la ocupación.
Arma aérea:
Cazas, que pueden escoltar a otros aviones, interceptar o atacar a tierra.
Bombarderos tácticos, bombarderos medios, bombarderos estratégicos y bombarderos navales. Su misión es atacar objetivos enemigos, unas unidades tienen mayor alcance que otras y atacan mejor a determinados objetivos.
Cohetes, disponibles para Alemania, representan V1 y V2 principalmente. Armas estratégicas para atacar puertos, recursos, ciudades, etc.
Arma naval:
Portaviones, que son unidades navales con aviación embarcada.
Acorazados, cruceros pesados y cruceros ligeros, son unidades navales armadas con artillería, para enfrentarse a las flotas enemigas o atacar las costas enemigas. También pueden emplearse para misiones de corsario contra los convoyes enemigos.
Destructores, más ligeros que los anteriores, son buenas armas antisubmarinos.
Submarinos, excelentes para ataques sorpresa sobre portaviones o acorazados. Su uso más eficiente es para entorpecer los convoyes navales enemigos. Pueden navegar en "modo caza" o en "modo silencioso".
Ya veis que hay muchos tipos de unidades. Pero la cosa no queda ahí. Las unidades tienen una serie de valores de combate estandarizados, pero estos pueden cambiar de varias formas.
Una de ellas es a través de la investigación. Desarrollos de armamento, movilidad, alcance, etc, pueden aplicarse a las unidades pagando el precio correspondiente a la mejora obtenida en la investigación.
El estado del suministro influye en la capacidad de combate y movimiento.
La preparación (readiness), la moral y la experiencia influye también en el combate.
El estar bajo mando de un Cuartel General influye en los valores de combate.
El tipo de terreno, las trincheras, fortificaciones, fortalezas, etc, también tienen su influencia.

En definitiva, puedes estimar la capacidad de combate de una unidad enemiga de un vistazo, viendo el tipo al que pertenece y el terreno que ocupa o si está atrincherado, pero no sabes su nivel de suministros (aunque puedes suponerlo a veces), no sabes si está bajo mando de un Cuertel General, etc, con lo que la simplicidad inicial se diluye (salvo que juegues sin Fog of War, por supuesto).
Sólo puede haber una unidad en cada hexágono, pero puedes pasar por encima de otras unidades si tienes puntos de movimiento suficientes.
También se puede alternar una posición entre dos unidades adyacentes (muy útil en determinadas situaciones de ataque y defensa) de modo que con un click la unidad que está en el frente toma la posición de la unidad adyacente, y esta última ocupa la posición previa de la primera.
ESTRUCTURA DE LOS TURNOS
Lo característico de la estructura de los turnos es que no hay estructura.
Es decir, puedes hacer lo que quieras y en el orden que quieras. Puedes mover, atacar, invertir en diplomacia o en investigación, declarar la guerra, reclutar nuevas unidades... todo ello sujeto a los límites que tengas por tu bando, pero en cualquier momento que decidas. No hay fases que dividan o estructuren el turno.
Si que os recomiendo que organicéis mínimamente vuestros turnos para no olvidaros de hacer una u otra cosa hasta el siguiente ¡puede ser demasiado tarde!
Esta filosofía de libertad en la estructura del turno se traduce también en el propio manejo de las unidades. Las unidades disponen de unos puntos de acción que gastan al mover y al atacar. Hay ciertas acciones como recibir reemplazos o recibir mejoras que consumen todos los puntos de acción, pero salvo estas, en general puedes gastar los puntos de acción como quieras (esto es, puedes mover, atacar y seguir moviendo por ejemplo). Por supuesto, hay pros y contras contra cada cosa. Por ejemplo, atacar antes de mover da un bonus de ataque (se supone que es un ataque preparado). Atacar después de haber movido no recibe ese bonus.
En el caso de las unidades aéreas, sin embargo, sólo puedes atacar si no has movido antes, pero si atacas siempre tienes disponibles ciertos puntos de acción para poder mover después.
Otra limitación a la libertad de acción son los PPM (Puntos de Producción Militar) que podemos equiparar con dinero/recursos. Cada turno recibes PPMs via producción de tus territorios y vía convoyes navales o importaciones (por ejemplo, Alemania recibiría la producción alemana y de sus territorios ocupados, los convoyes de acero sueco, importaciones de trigo de la URSS y el wolframio comprado a España, traducido todo ello en un número de PPMs. El juego especifica cuantos PPMs vienen de cada fuente).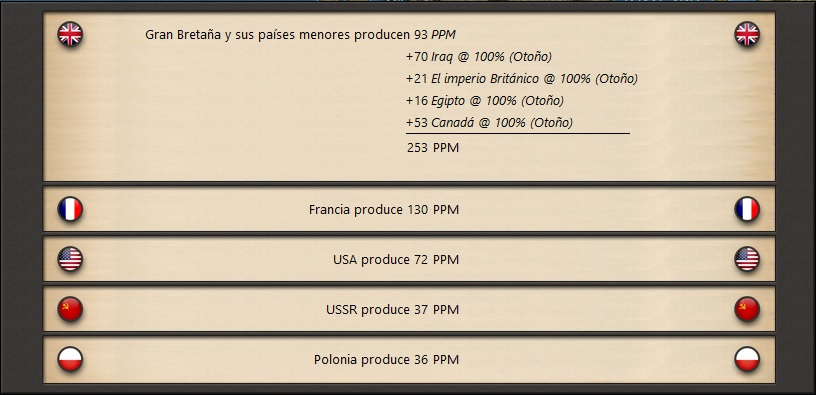 Los PPMs se utilizan para varias cosas: para movilizar reemplazos (para poder reponer la capacidad de combate de unidades militares debilitadas), para reclutar nuevas unidades, para invertir en investigación y o en diplomacia, para mover grandes unidades por ferrocarril o por mar, para implementar mejoras de investigación y desarrollo en unidades que no dispongan de ellas (por ejemplo representa la sustitución de tanques obsoletos por modelos más modernos), o para invertir en determinadas decisiones económicas, militares y diplomáticas que se te pueden ir presentando (se me ocurre como ejemplo que llevando el Eje, Italia declaró la Guerra a Grecia y me presentaron la opción de invertir un número de PPMs para sobornar a la élite griega para facilitar la invasión. El resultado no fue satisfactorio, la verdad. Parece que la corrupción de la Italia Fascista de Musolini hizo que esos recursos desaparecieran en bolsillos ajenos por su camino a Grecia).
Finalizados los movimientos de unidades, los combates, y sin más PPMs que gastar, terminas el turno y el bando contrario inicia el suyo.

Cada porción de turno (es decir, el turno de Eje, o el de los Aliados) dura 7 días en verano, 11 días en Otoño y Primavera, y 21 días en invierno.
ECONOMIA
Como he explicado anteriormente, el juego usa el concepto de PPM para representar moneda/riqueza/recursos.
Pero ¿cómo obtenemos PPMs?
Se obtienen recursos de las ciudades pequeñas, medianas, grandes y capitales, de puertos mayores, minas y otros recursos (petróleo). Cada país mayor tiene un valor de desarrollo industrial, de modo que los puntos por recursos se multiplican por el porcentaje de desarrollo/potencia industrial.
Los países neutrales, además multiplican estos valores por el porcentaje de su movilización para la guerra.
Por ejemplo (y uso valores inventados para entenderlo). Si Italia tiene 600 puntos de recursos recolectados de sus ciudades, puertos y riquezas mineras, es neutral y tiene un valor industrial del 30% y un nivel de movililización militar del 50%, sus PPMs serán: 600 x 0,30 x 0,50= 90 PPMs.
Puedes aumentar el valor de tu industria con investigación en producción industrial.
Además, recibes PPMs por convoyes navales e importaciones como he señalado antes. Estos convoyes se activan según determinados eventos. Por ejemplo, Alemania recibe el wolframio español en caso de que Francia sea derrotada, Burdeos ocupada por el Eje, no haya unidades aliadas a 5 o menos hexágonos y España diplomáticamente esté en el lado del Eje con un valor del 20% o más.
Se recibe también PPMs vía conquista. Por un lado, pasas a controlar los recursos y ciudades ocupadas. Por otro, en el turno de la conquista hay un saqueo igual al valor industrial de los recursos enemigos, más un valor económico de las unidades militares que se rindan (por ejemplo, Alemania utilizó armamento capturado a los checos, o a los franceses después de su invasión, y saqueó las riquezas de los países conquistados).
¿Qué puede hacerse para atacar la economía enemiga?
La vía más obvia es la conquista militar de su territorio, reduciendo así sus recursos.
También pueden bombardearse los recursos, puertos y ciudades (como los Aliados occidentales con las campañas de bombardeo en Alemania), pueden bombardearse puertos mayores (utilizando la flota o la aviación). Puede actuarse diplomáticamente para impedir ciertas importaciones (en el ejemplo anterior, la presión diplomática aliada sobre España podría anular la importación de wolframio ya que una condición para obtener esos PPMs es que España permanezca como pro-Eje en al menos un 20%), y pueden atacarse los convoyes navales.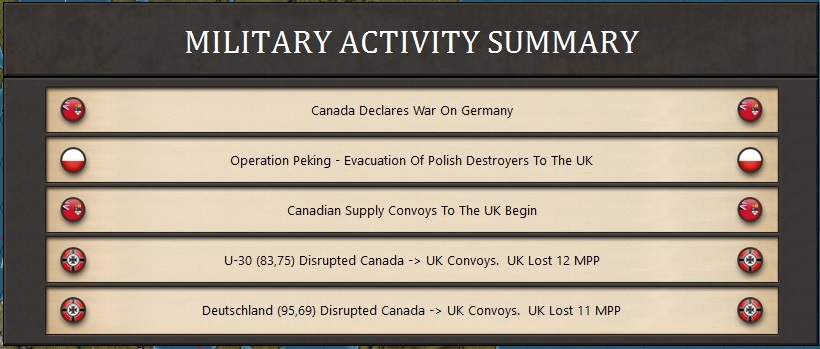 CONVOYS Y ATAQUES A LAS RUTAS MARINAS. LA GUERRA DEL ATLANTICO
Puede consultarse en todo momento las rutas de convoy activas en el juego.
Las rutas de convoy aparecen representadas con unas líneas flechadas desde su origen y en dirección a su receptor.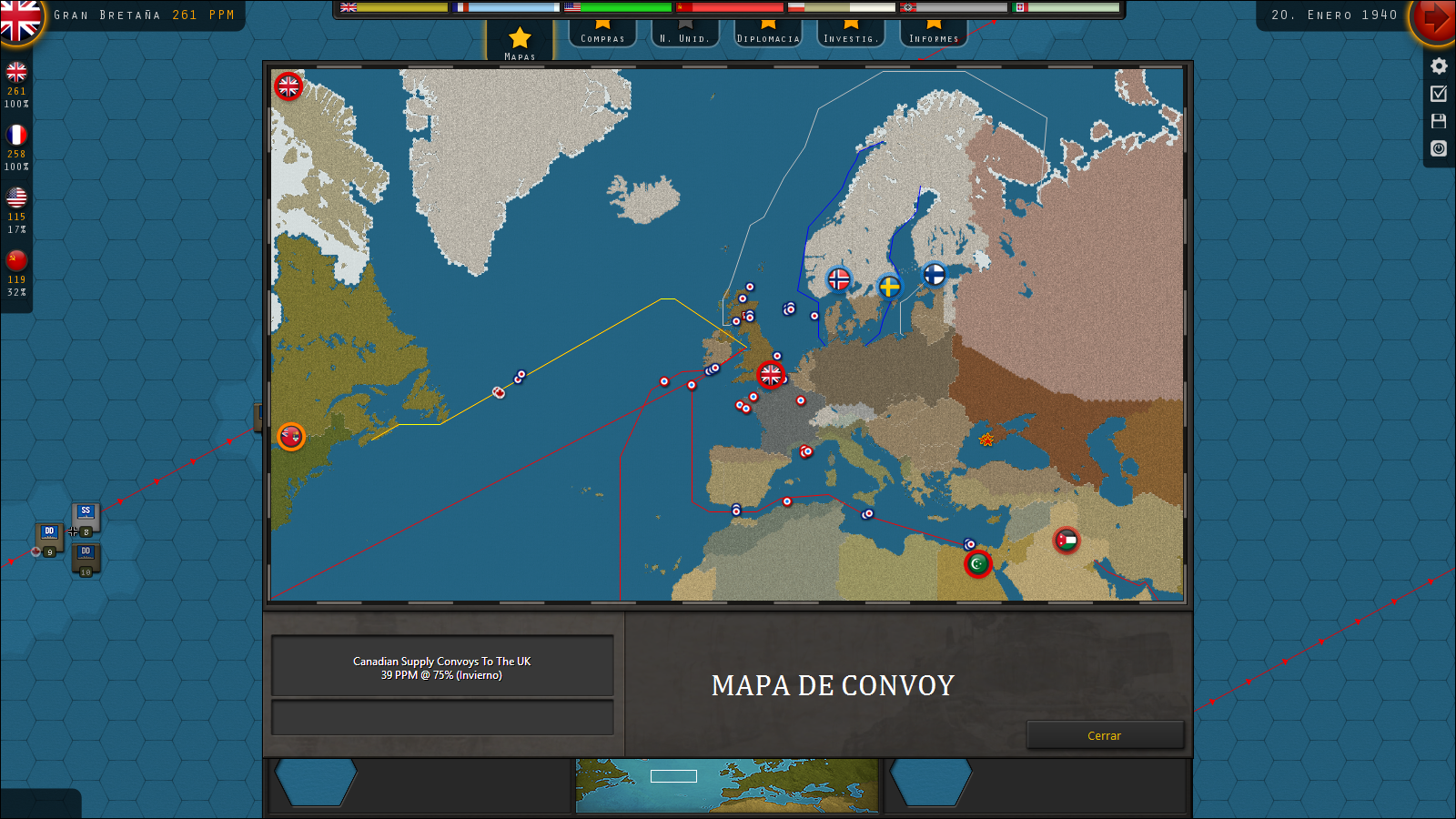 Los convoyes activos aparecen en color rojo cuando son convoyes dirigidos a alguno de los Aliados, en azul cuando van dirigidos al Eje, y en blanco si son convoyes inactivos (y por lo tanto no atacables).
Para atacar los convoyes pueden usarse fuerzas navales en modo "raider", al estilo de los corsarios y cruceros alemanes enviados a alta mar a cazar mercantes.
Pueden usarse flotillas submarinas, más difíciles de detectar, y más escurridizas.
Simplemente situando submarinos o corsarios en o adyacentes a una ruta de convoyes se producen ataques que tienen un resultado en PPMs que deja de recibir la nación implicada.
Y también puede usarse bombarderos navales que estén al alcance de las rutas a atacar.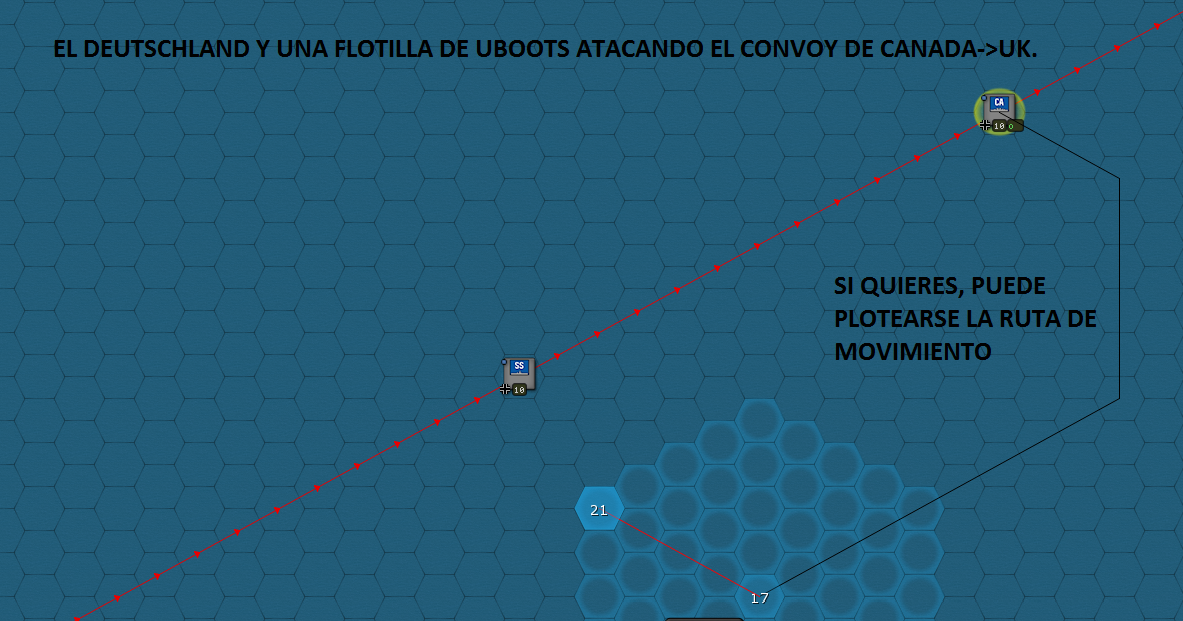 Cuando se utilizan corsarios o submarinos en ataques a convoyes delatas tu posición y el enemigo verá un "?" en el hexágono en el que se ha producido el ataque. Salvo que el jugador sea descuidado, es improbable que la unidad responsable permanezca allí esperando ser cazada, se habrá desplazado, con lo que comenzará el juego del gato y el ratón.
Para defender las rutas de convoyes de los bombarderos navales hay que emplear defensa aérea (cazas) sobre las zonas de convoy para anular los ataques aéreos.
Sin embargo, para defenderse de los corsarios y de los submarinos las únicas armas disponibles son perseguirlos y acabar con ellos con la flota y con la aviación.
Reino Unido aquí es la clave ya que recibe gran cantidad de PPMs vía convoyes, y dispone de una numerosa flota para defenderse de los submarinos y corsarios alemanes.
En principio la mecánica es simple, pero a esto hay que añadir otros detalles:
La investigación puede influir en modelos mejorados de submarinos, en mejores armas ASW (anti-submarina) para los destructores, largo alcance aéreo, mejores armas aeronavales, etc.
Los EEUU apoyando a Reino Unido con Destructores y ofreciendo sus puertos para reparaciones navales mediante eventos, todo ello antes incluso de entrar en guerra.
La importancia de Francia. Mientras Francia permanece en guerra los aliados disponen también de la flota francesa para defender los convoyes. Una Alemania demasiado agresiva al inicio de la guerra puede verse derrotada en el mar al inicio de la guerra. También la caída de Francia influye porque el Alemán gana los puertos costeros atlánticos de Francia.
Los alemanes pueden usar Vigo y Santa Cruz en las Canarias tras la caída de Francia y con una suficiente presión diplomática sobre Franco.
La entrada en guerra de EEUU modifica todo el panorama. La flota y aviación de EEUU se une a la defensa de los convoyes y su poderío económico y diplomático puede alterar la estrategia alemana.
He leído por ahí que puede discutirse económicamente la viabilidad de la estrategia submarina alemana (y de la estrategia de bombardeo de Europa Aliada), pero sin duda merece la pena probarlo jugando tu propia Batalla del Atlántico.
EL BOMBARDEO DE EUROPA. BOMBARDEOS ESTRATEGICOS Y COHETES
Con la entrada en guerra de los EEUU y mientras Alemania permanezca fuerte en tierra, los Aliados pueden invertir en bombarderos estratégicos, junto con avances en investigación para lanzar ataques aéreos sobre ciudades y recursos del Eje.
El Eje sólo puede reducir su efectividad empleando cazas en misión de intercepción (investigando también en mejoras aéreas) y desplegando Antiaéreos para defender los objetivos más importantes.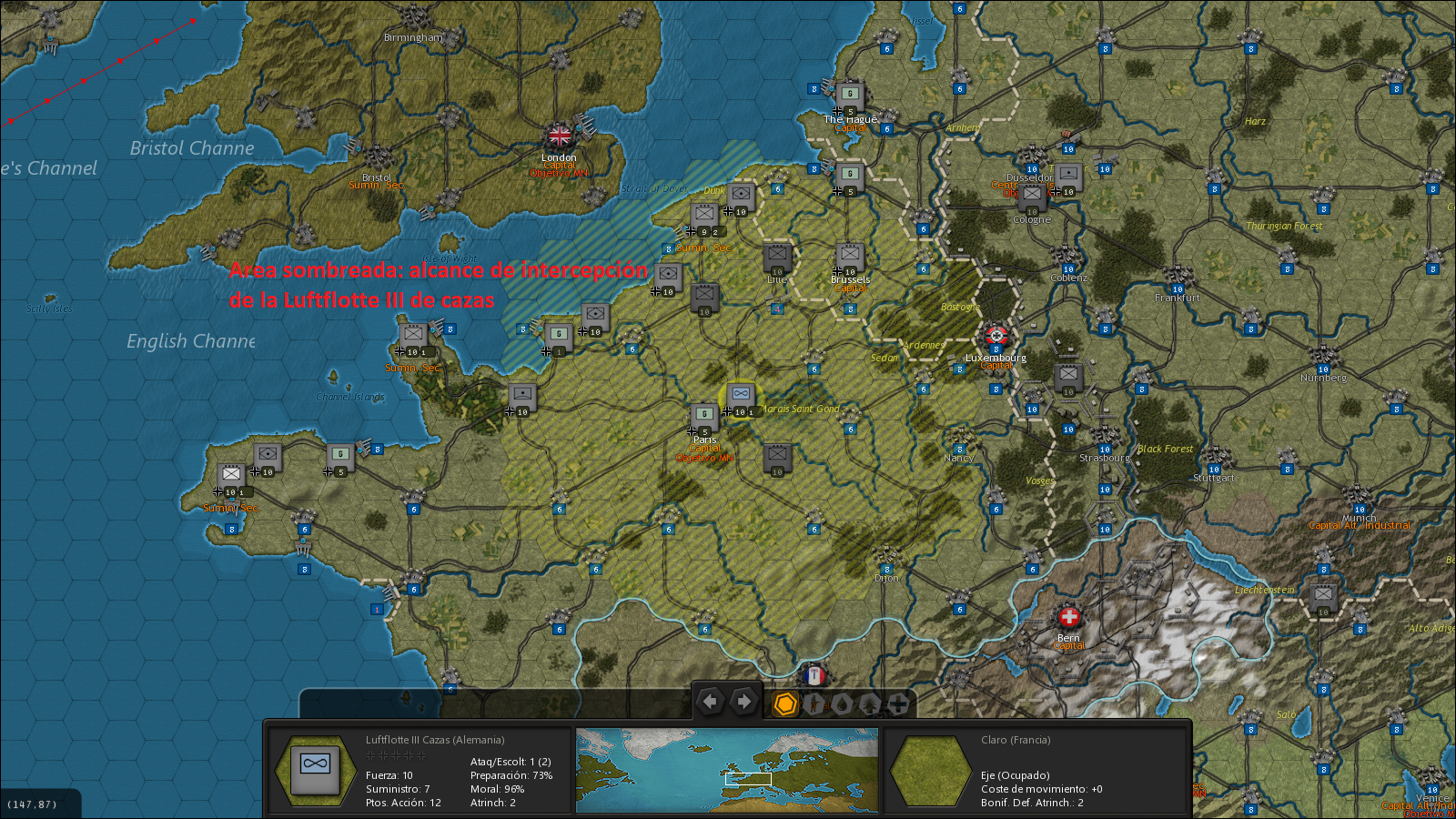 Es básicamente una guerra económica ya que los Aliados deben invertir en armas especiales e investigación y sostener la campaña reponiendo pérdidas. Al igual que el alemán, aunque este también sufrirá el desgaste económico producido por los bombardeos de sus recursos.
Por otro lado, la guerra aérea estratégica se complementa con otro detalle, el uso de cohetes por parte alemana.
Estas armas es mejor emplearlas contra objetivos económicos enemigos (puertos, ciudades), teniendo en cuenta que su efectividad se reduce con la distancia al objetivo.
EL COMBATE TERRESTRE. SUMINISTROS Y MANDO Y CONTROL
Las unidades de tierra pueden mover y combatir contra las enemigas. Para ello tienen que estar en hexágonos adyacentes.
Aunque la mayor parte de las unidades ejercen una zona de control en los hexágonos de su alrededor, esta zona de control no impide el movimiento, sólo lo hace más difícil.
Para atacar, simplemente seleccionas una unidad y haces click sobre la unidad enemiga. Como veis es una forma sencilla de hacerlo. De hecho, cuando seleccionas una unidad y pasas el cursor sobre la unidad enemiga verás una estimación del resultado, y recalco esto, es una estimación. Si sólo pretendes atacar cuando la relación de ataque te sea favorable vas a encontrarte con dificultades.
Lo que hay que hacer es intentar conseguir que esa estimación vaya lo más posible a tu favor. Pregúntate por ejemplo:
¿Tiene la unidad suministros suficientes?
¿Hay un Cuartel General dirigiendo el ataque?
¿Qué terreno ocupa el enemigo o se interpone en el ataque?
¿Hay artillería o aviación que pueda ser usada para debilitar la defensa?
¿Hay otras opciones de ataque o movimiento que puedan darte ventaja? ¿un posible envolvimiento?
Siempre es preferible usar el máximo de armas contra un objetivo, así que usa la flota si están en la costa, emplea la aviación, asigna Cuarteles Generales a los sectores del frente más importante, y si es posible, cerca al enemigo y deja que las fuerzas menos importantes limpien las bolsas mientras sigues atacando con tus fuerzas de élite.
Es fácil decirlo, pero complicado hacerlo.
Jugando con el Eje una campaña me he encontrado invadiendo la URSS y siendo incapaz de avanzar más allá de 100 Km al oeste de Leningrado y Smolensko. Seguro que es por mi incompetencia y mi inexperiencia, porque jugando el escenario de Barbarossa he conseguido llegar a las puertas de Moscú.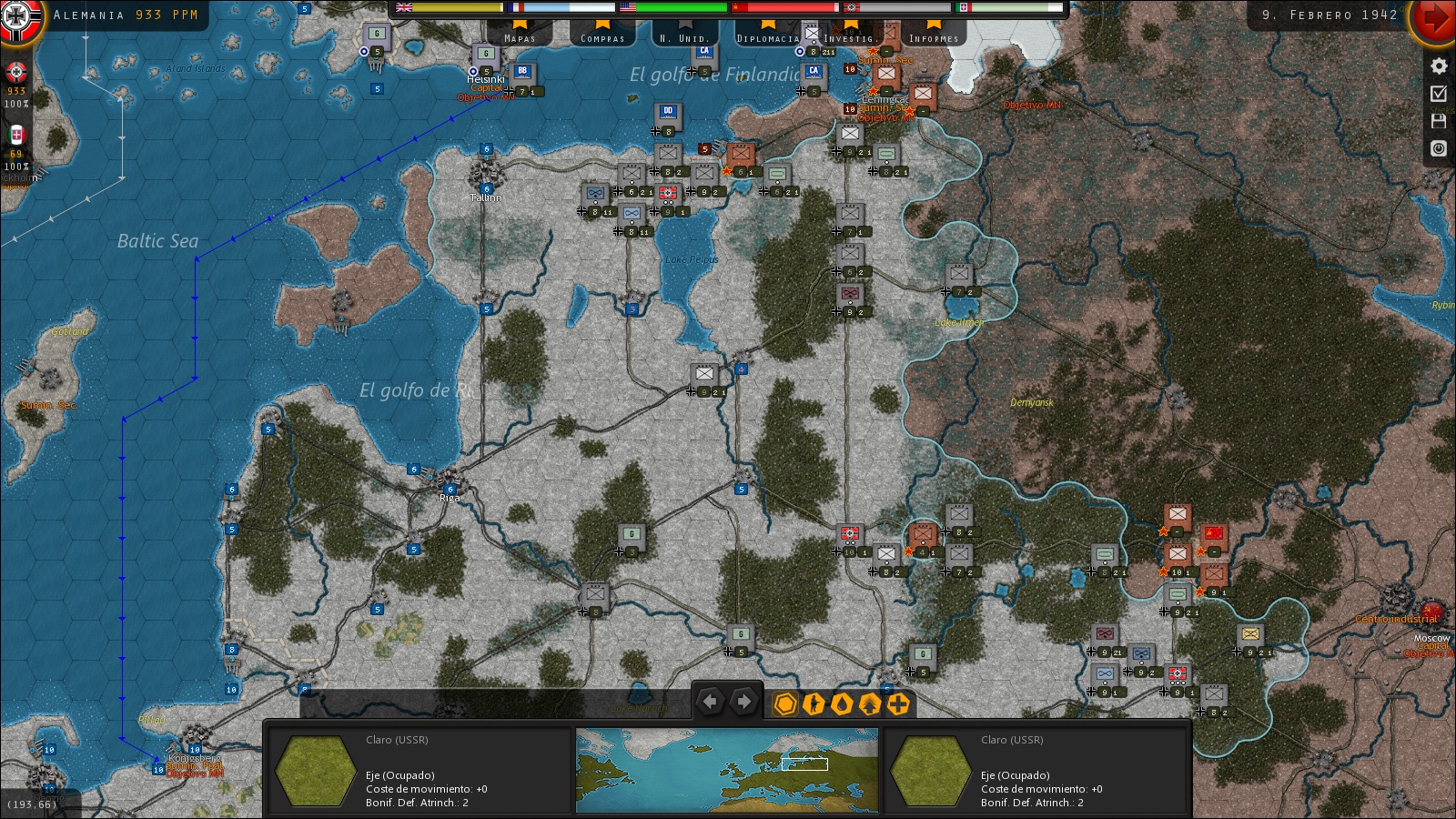 No es fácil, y una vez que la URSS estabiliza el frente, prepárate a sufrir. Realmente me ha sorprendido gratamente la IA.
En el norte de Africa he sido capaz de derrotar al británico, quizás porque al ser un frente más reducido puedes evitar cometer demasiados errores, pero en la URSS estoy sufriendo una dolorosa y muy cara derrota.
El tema de los suministros es capital. Me dí cuenta cuando las fuerzas Panzer avanzaban hacia el interior de la URSS hasta quedarse prácticamente detenidas por falta de suministros en territorio hostil.
Las ciudades proveen suministros, y las líneas de ferrocarril los distribuyen allí donde son necesarios. Pero el nivel de suministros se reduce conforme nos alejamos de las fuentes, y la URSS es muy grande. Hay mucho terreno que tiene unos niveles de suministro bastante bajos.
Puede consultarse en todo momento el nivel actual de suministros y el nivel "futuro" en caso de avance más allá de tus líneas.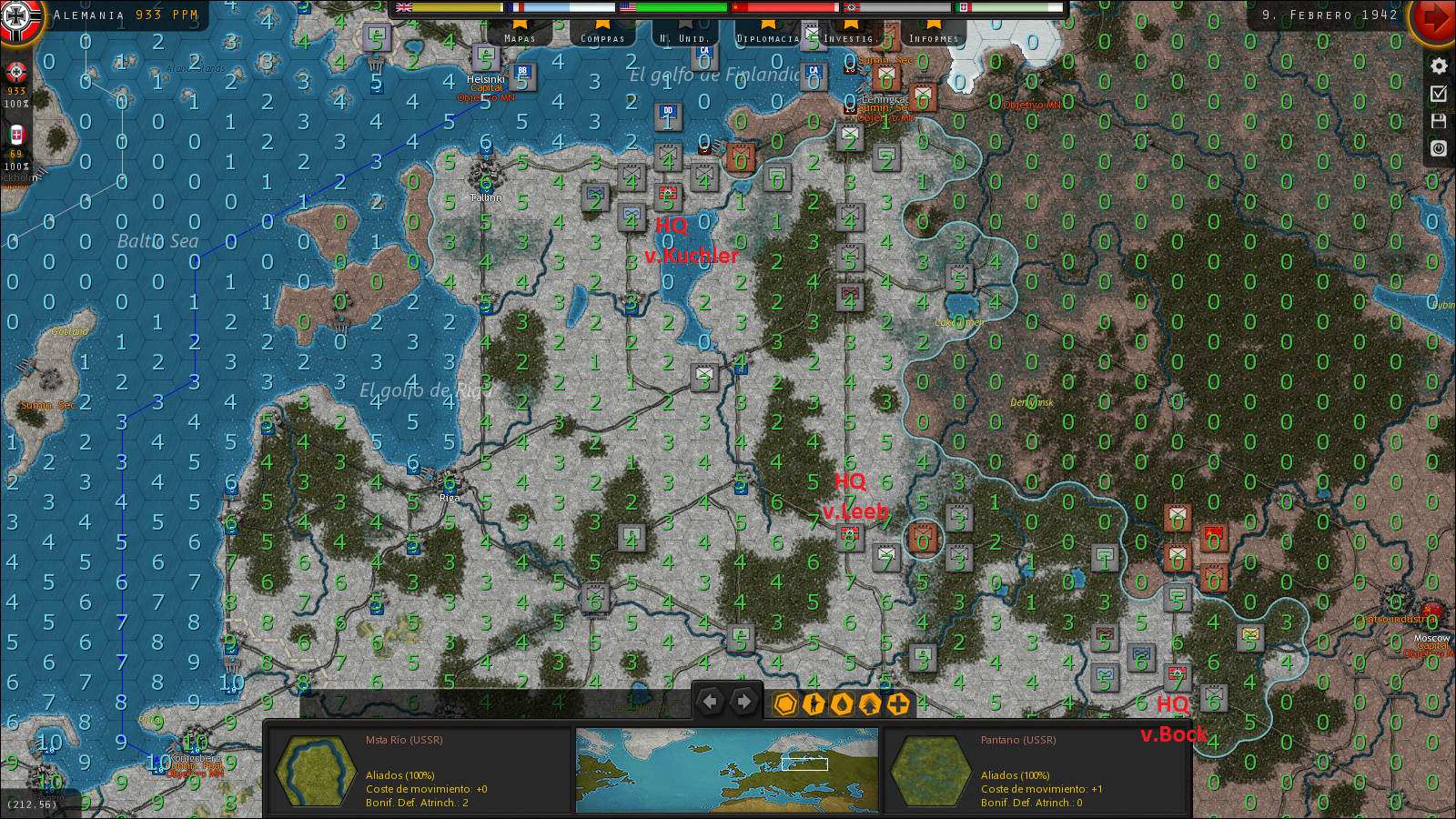 Así que en lugares con pocas fuentes de suministro (Africa, URSS) es fundamental emplear adecuadamente los Cuarteles Generales que actúan como fuentes de suministro. El problema es que no tienes suficientes Cuarteles Generales para cubrir todos los frentes, y que son más lentos al mover que tus fuerzas acorazadas, con lo que debes valorar la situación en cada momento para saber si merece la pena avanzar más en territorio enemigo y detenerte a esperar suministros, o si hay que ajustar la velocidad del avance para disponer de suministros suficientes.
El nivel de suministros determinará la capacidad de movimiento y la efectividad de combate. Por otro lado, un bajo suministro también reduce los reemplazos que una unidad puede recibir. Así que una fuerza baja en suministros moverá menos, combatirá mal y se recuperará peor. Por eso es buena táctica embolsar fuerzas enemigas, porque su bajada en suministros les hará más vulnerables en los combates.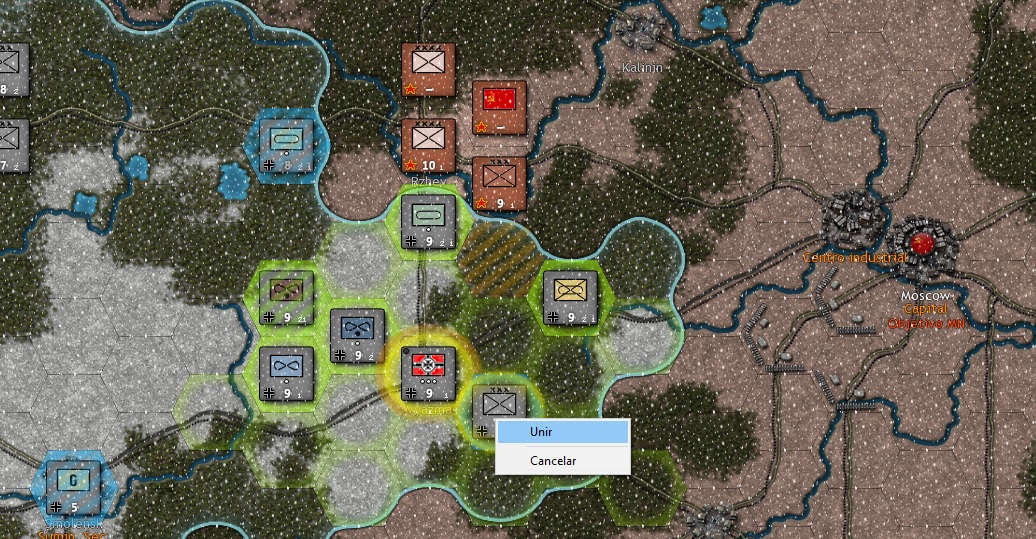 Por otro lado, los Cuarteles Generales pueden tener bajo su mando hasta 5 unidades. Puedes dejar que la IA seleccione las 5 unidades, o seleccionarlas tú con o sin ayuda de la IA.
La importancia de los HQ reside, además de actuar como fuente de suministros, en que aporta unos bonus de efectividad, moral y experiencia a las unidades bajo su mando.
INVESTIGACION Y DESARROLLO
Puede usarse dinero/recursos (PPMs) para invertir en Investigación y Desarrollo.
En la pantalla de investigación dispones de toda la información necesaria para ello.
Cada potencia mayor dispone de un número de "puntos" que puede colocar en alguna tecnología al coste que indique cada una de ellas. Podríamos entender un "punto" como un equipo de investigación. Así que para la tecnología que te interese desarrollar tendrás que colocar 1 o más equipos de investigación (puntos) y dotarle de recursos pagando/invirtiendo el coste indicado para cada tecnología y punto.
Cada punto de investigación tiene asociado un valor de 5% en desarrollo, siendo acumulables (si tienes 2 puntos invertidos en una tecnología, el porcentaje aplicado es de 10% por turno).
Ese porcentaje indica la media que avanzas por turno (es decir, que podrías avanzar entre un 2% y un 7% por turno con 1 punto). Y el objetivo es lograr el 100% de investigación. A partir de un 30% de nivel de investigación, hay una pequeña posibilidad cada turno de tener un golpe de suerte que permita lograr el avance tecnológico sin haber alcanzado el 100%.
A eso se puede añadir bonus debidos a que un aliado tenga un avance que tu no tienes y lo comparta contigo, a que un enemigo disponga de una ventaja tecnológica y que la captura de material enemigo sirva para desarrollar tu propia tecnología, y a ventajas en espionaje e inteligencia.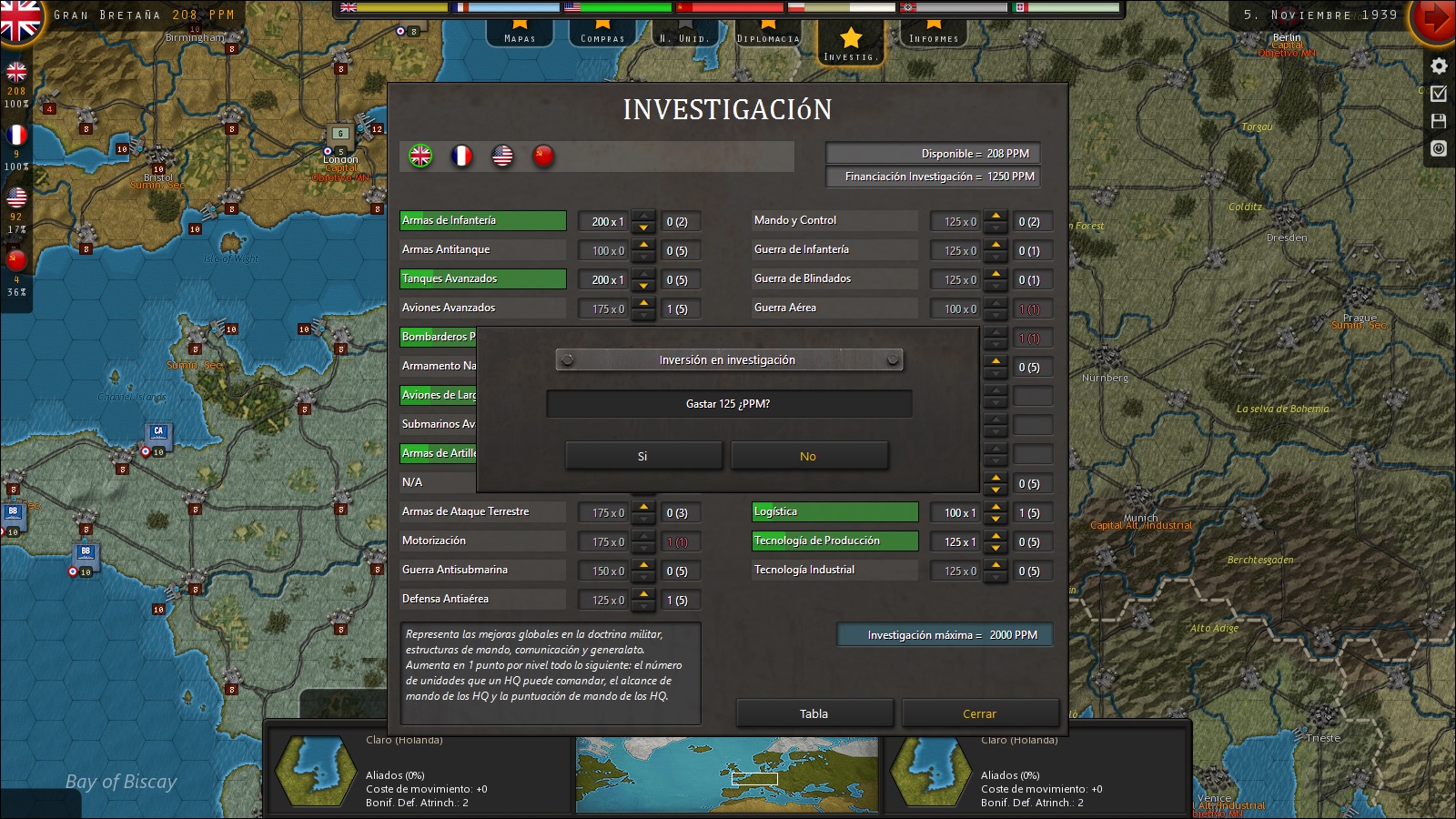 Los avances obtenidos pueden ser de aplicación automática, o bien mejoras que pueden añadirse a las unidades (pagándolas).
Por ejemplo, la tecnología de submarinos mejorados a nivel 1 permite que se puedan mejorar las flotillas de submarinos cuando estén en puerto, pagando el coste correspondiente. Sin embargo, las mejoras en doctrinas de guerra blindada se aplican de forma automática a todas las unidades blindadas.
DIPLOMACIA
Funciona de forma parecida a la investigación. Cada potencia mayor dispone de un número limitado de "puntos" que puede emplear en diplomacia (en este caso, cada punto sería una acción diplomática). Hay algunos países donde está limitado el número de puntos que pueden recibir de las potencias mayores.
Las potencias mayores no pueden cambiar de bando por medio de diplomacia, pero sí que se puede retrasar o adelantar su entrada en la guerra.
Los países (tanto potencias mayores, como países menores) tienen una inclinación pro-Eje, pro-Aliada o neutral. Por medio de avances diplomáticos sí que puede influirse en la inclinación de los países menores (atrayéndoles hacia tu bando si consigues una ventaja diplomática).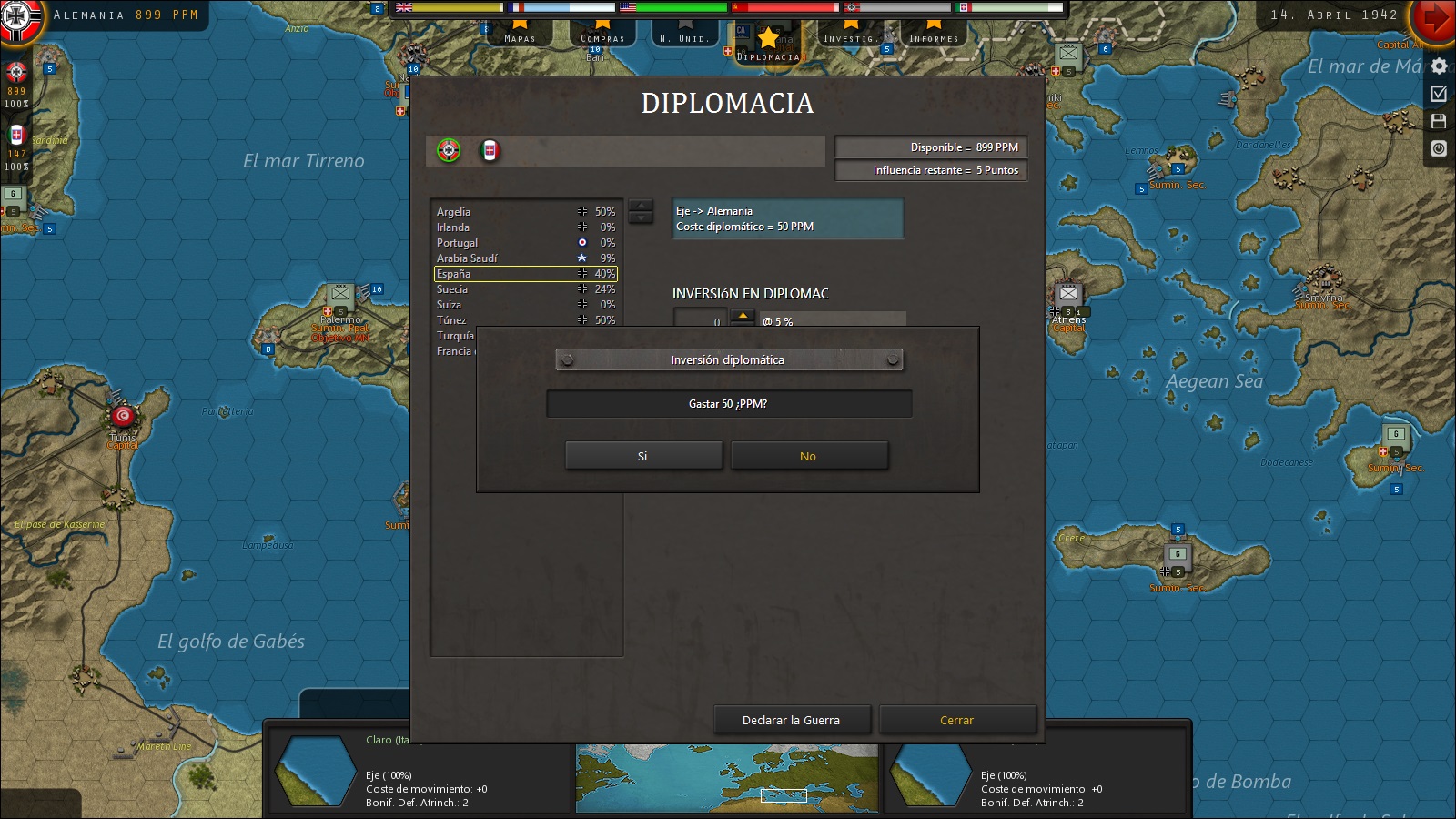 Invertir en diplomacia para cada país tiene un coste diferente (por ejemplo, resulta más caro para Alemania influir diplomáticamente en EEUU que en Suecia), pero cada punto diplomático representa un 5% de posibilidades de influir sobre ese país. En caso de éxito se produce un avance de entre un 8% y un 30% (dependiendo de diversos factores) hacia tu bando en el valor de movilización del país.
Por otro lado, hay determinadas circunstancias que pueden influir en la diplomacia, por lo que es importante revisar los eventos disponibles. Ya he citado por ejemplo la situación de España: Si el Eje mantiene a España en su esfera de influencia con un valor de movilización superior al 20%, una vez cae Francia puede beneficiarse del wolframio español. Si además de ocupar Francia, la movilización de España supera el 25% en favor del Eje, el Eje podrá utilizar las bases de Vigo y Santa Cruz para suministrar y hacer reparaciones menores en sus fuerzas navales. La guerra con la URSS hace que España mande la División Azul para luchar contra el comunismo. Y cumpliendo unas condiciones draconianas en el norte de Africa se podría incluso hacer que España entrara en la guerra.
Y a esto hay que añadir que determinadas acciones tienen consecuencias diplomáticas. Un Eje agresivo hará que los EEUU se movilicen más rápidamente para la guerra. Aunque no entren en la guerra, el nivel de movilización militar de los países mayores neutrales influye de forma directa en su producción, con lo que unos EEUU altamente movilizados estarán invirtiendo más y más PPMs en prepararse para la guerra.
RECLUTA DE UNIDADES
Puedes emplear los PPMs en reclutar nuevas unidades.
Las unidades tienen un coste que puede verse afectado por la investigación, bien mejorando la producción, bien por medio de mejoras en armamento.
Asi por ejemplo, avances en Mejoras de Producción abaratan los costes de las nuevas unidades reclutadas.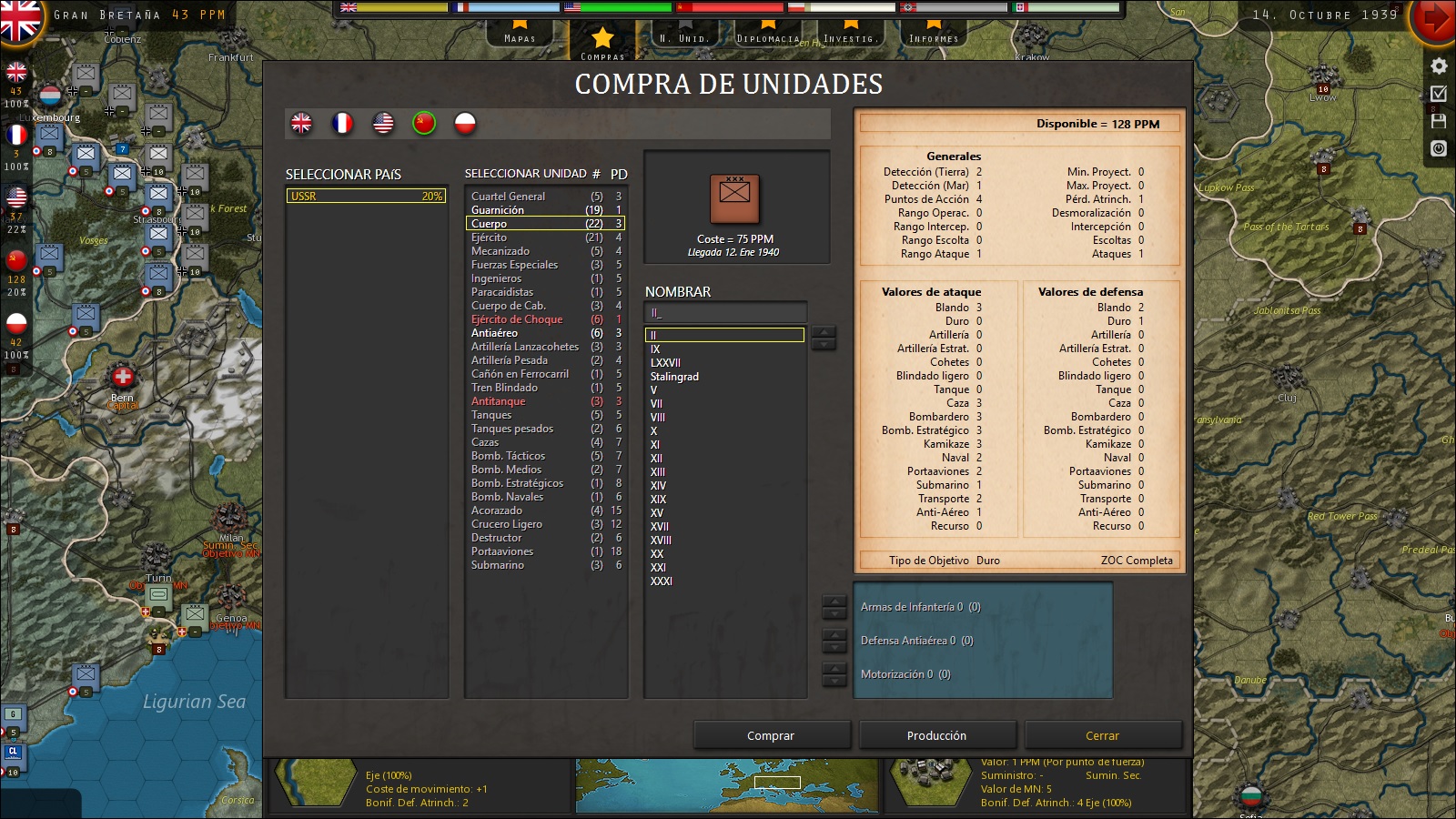 Pero si quieres producir submarinos avanzados, serán más caros que submarinos no avanzados, porque al valor de base de los submarinos habría que añadir el valor de las mejoras que hayamos investigado y que queramos implementar.
En la pantalla de producción tienes el listado de unidades disponibles para producir. Junto a ellas hay un número entre paréntesis que indica el número de unidades de ese tipo disponibles para producir (no puedes producir un número infinito de unidades acorazadas por ejemplo, sino hasta el límite indicado). Y junto a este límite de unidades hay otro número que indica el Production Delay (o retraso de producción), es decir, botar un nuevo acorazado no se hace en una semana, sino que es un proceso que cuesta meses. Sin embargo, organizar una guarnición cuesta mucho menos tiempo (y dinero).
EVENTOS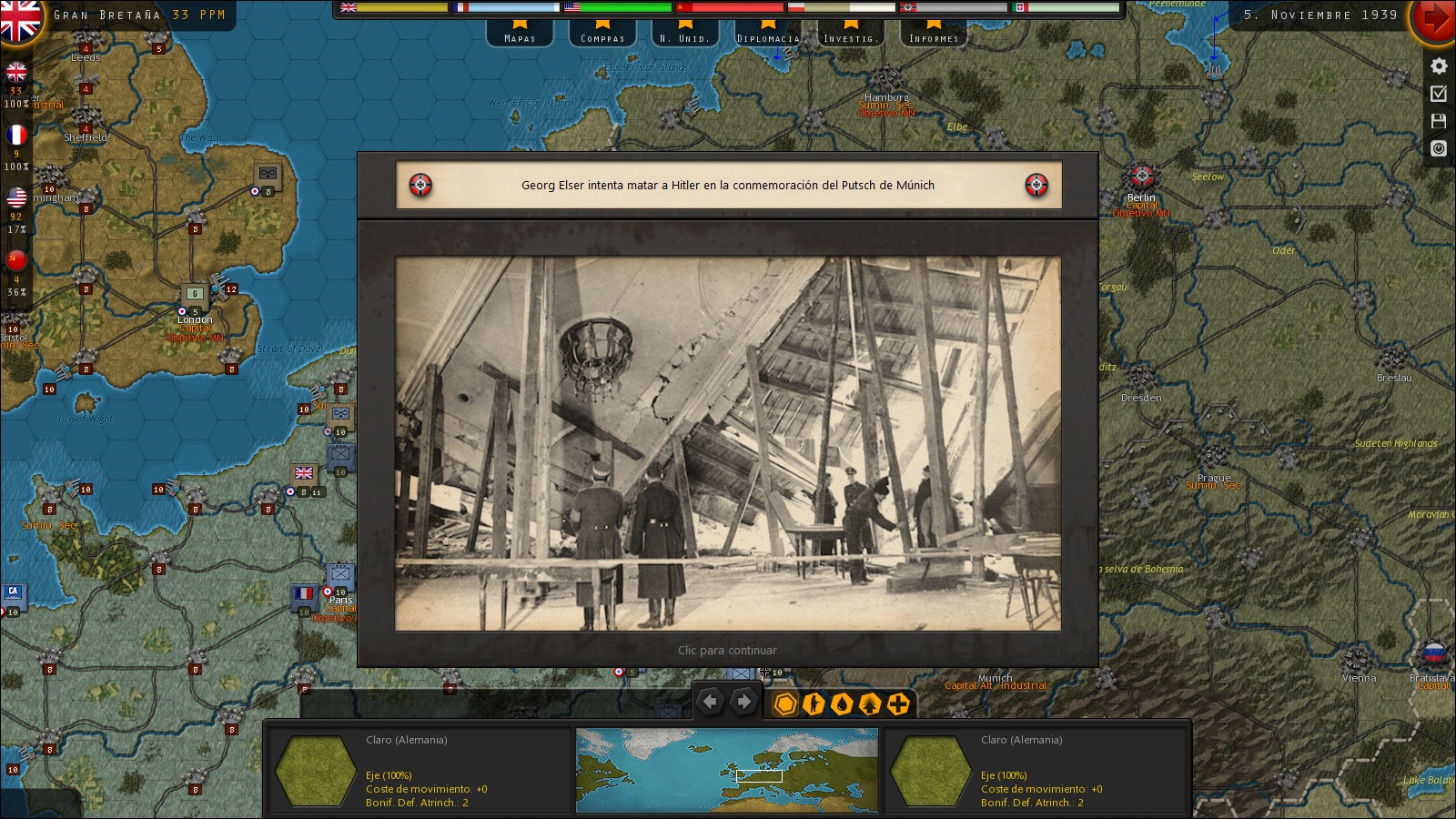 En el juego se suceden una serie de eventos que nos informan de distintos hechos históricos que van sucediéndose (por ejemplo, se anuncia la reelección de Roosvelt), o nos presentan una serie de decisiones a adoptar surgidas del propio devenir de la partida (otros ejemplos: las decisiones relacionadas con el pacto Molotov-Ribbentrop a cerca de la partición de Polonia, o decisiones relativas a enviar fuerzas expedicionarias a distintos frentes como el British Expeditionary Force a Francia, o el Afrika Korps a Libia), normalmente con un coste asociado que deberemos de pagar religiosamente.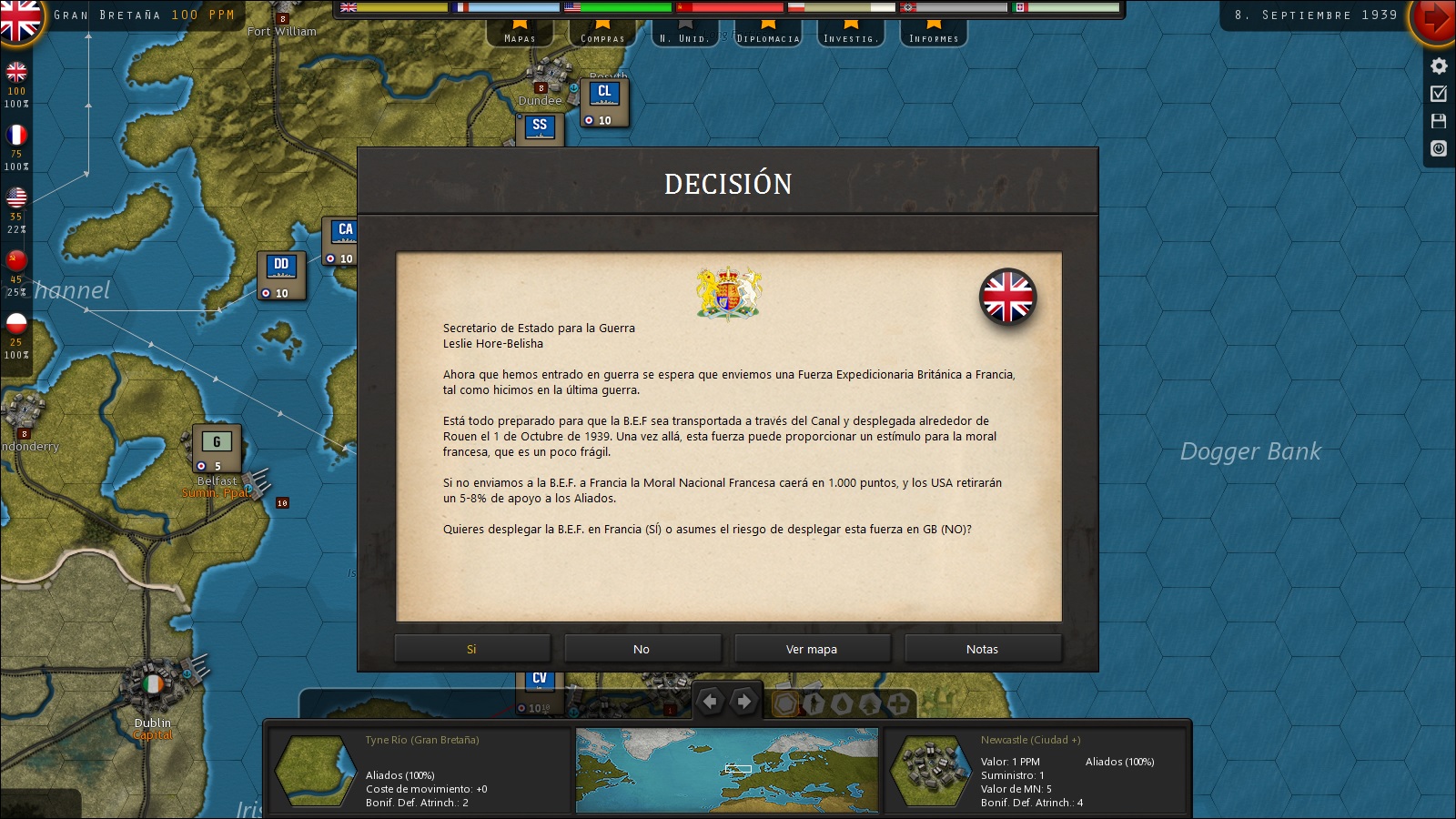 Estos eventos hacen que el juego aproveche el contexto histórico como un elemento más de juego, a la vez que crea una importante inmersión.
CONCLUSIONES
Como podéis ver, se trata de un juego con mecánicas sencillas. Pero con la suficiente profundidad y detalle como para hacer de este un muy buen juego a nivel estratégico sin los problemas añadidos de una excesiva profundidad. Juego intuitivo y abarcable, con una dificultad de aprendizaje que no es demasiado exigente, a la vez que es tremendamente adictivo. Si comparamos este juego con uno de escala similar pero en el Pacífico, como es el War in the Pacific Admiral Edition, el nivel de detalle y micromanejo de este último lo hace en la práctica injugable para muchas personas que no tienen ni el tiempo, ni el interés en un sistema de juego de semejante complejidad, mientras que este juego ofrece un sistema sencillo de aprender que permite ponerse "manos a la obra" de forma casi inmediata.
Los detalles introducidos por los eventos que se suceden turno tras turno añaden un cromo y una inmersión que es muy de agradecer.
La interface es clara, sencilla, y accesible. Los gráficos son más que aceptables para este tipo de juegos, y tiene cierta capacidad de configuración que permite adaptar el juego según los gustos de cada uno.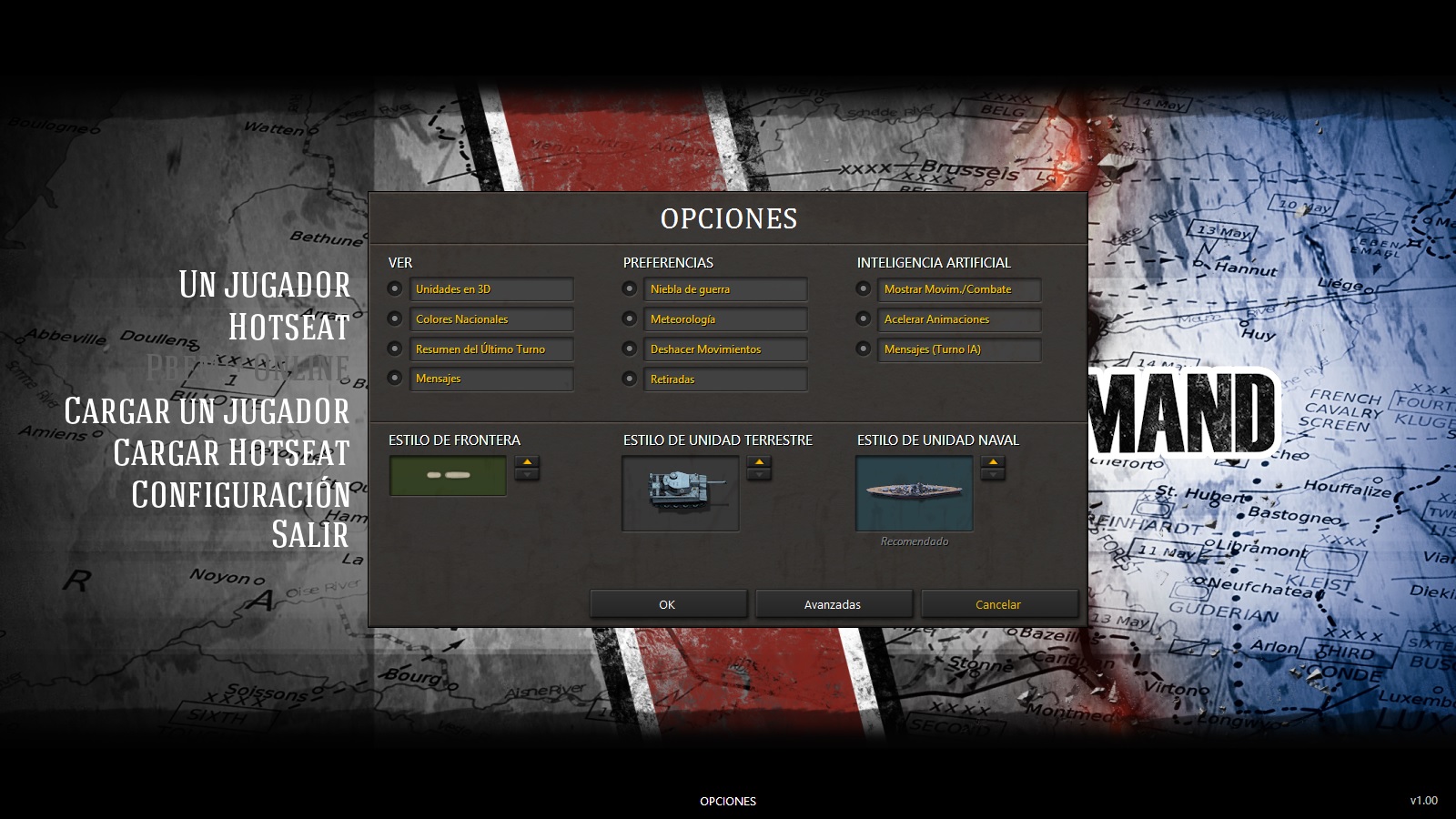 Por otro lado hay que destacar un manual muy detallado y apéndices que explican las distintas estrategias disponibles para cada bando. Cualquier duda que podáis tener está perfectamente explicada en el manual. Además, tanto el juego como el manual están traducidos al castellano.
El juego también viene con un editor que permite crear tus propias campañas. Tienes ya creadas la campaña de la Segunda Guerra Mundial, y otros escenarios cubriendo distintos momentos de este conflicto, pero no se acaba aquí el juego, ya que con el editor pueden crearse mapas, y utilizarse unidades distintas de las utilizadas en los escenarios "de base". Estoy seguro que pronto habrá disponibles escenarios nuevos para el juego.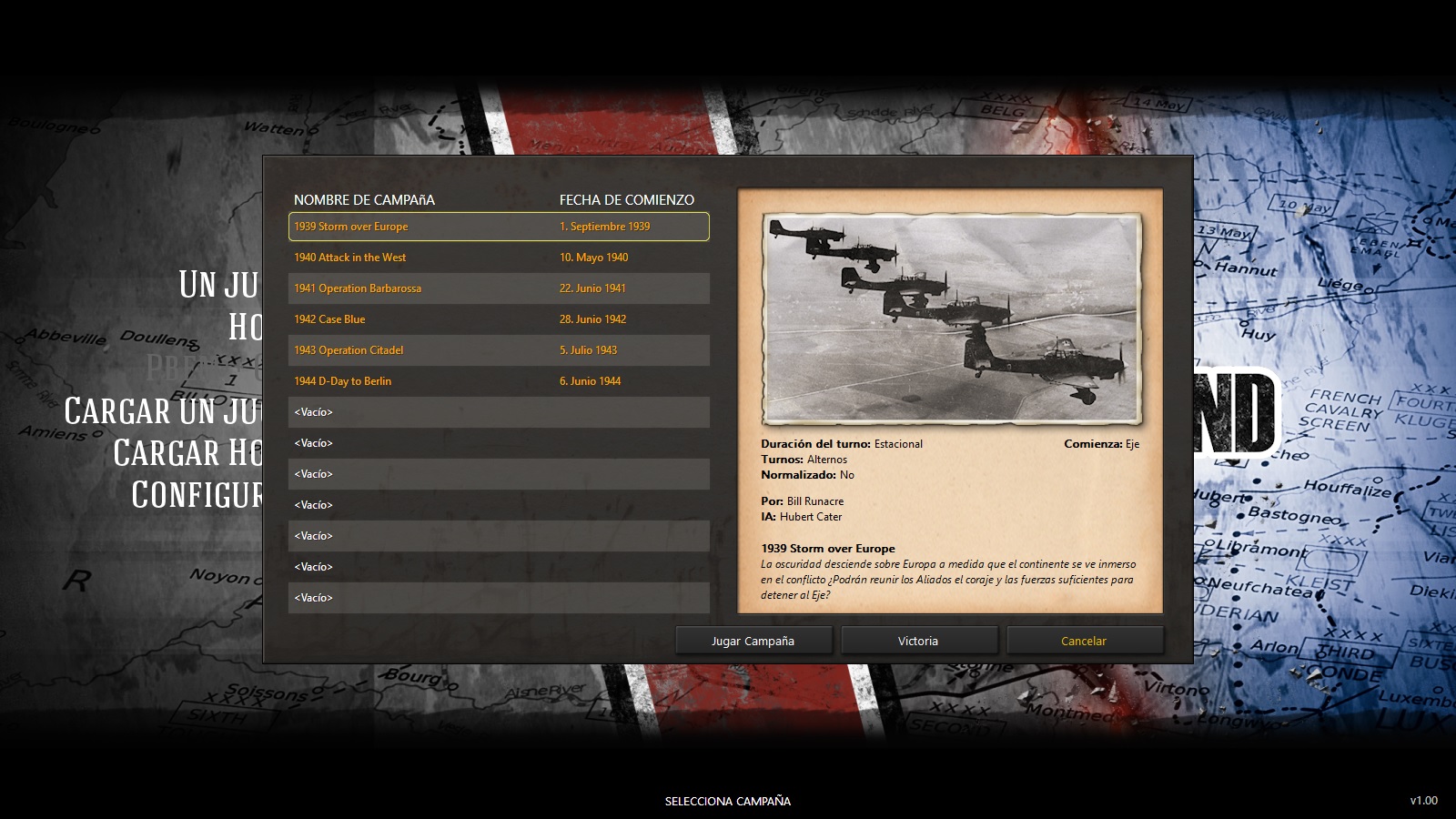 Otro aspecto a destacar es el precio, 40 euros. Un precio realmente competitivo en este tipo de juegos de guerra que pueden alcanzar y en algunos casos superar sin problemas los 60 euros.
Como nota negativa no puedo menos que dejar constancia de que actualmente el juego sólo puede jugarse en Multijugador en modo Hot-Seat. Aunque tanto la web de Matrix/Slitherine, como el foro del juego prometen aplicar pronto un sistema multijugador vía e-mail.
Esta nota negativa se ve mitigada por el hecho de que dispone de una muy buena IA. Como he comentado, en la partida que estoy jugando la IA está al mando de los aliados y en la URSS estoy sufriendo para mantener a los rusos a raya... de momento veo muy difícil (si no imposible) que sea capaz no ya de derrotar a los soviéticos sino simplemente detenerlos, con lo que ¡me enfrento a una más que posible derrota en 1943 ó 1944 a manos de los rusos! Y no por medio de "trampas" o ventajas artificiales, sino aplicando las mismas reglas para ambos bandos. Simplemente un Stalin robótico me está superando militarmente. ¿Quizás debí evitar invadir la URSS y haber invertido más en diplomacia? Visto lo visto, sí. También Reino Unido y los EEUU están dándome trabajo en el Atlántico. Ahora mismo tengo varias flotillas de u-boots prácticamente bloqueadas en el Mar del Norte, acosadas por las flotas aliadas, que va a ser difícil que pueda enviar a alta mar de caza a las rutas de convoys... al menos de momento.
En definitiva, su sencillez lo hace apto para todos los públicos. Puede servir tanto para un jugador casual que quiere un juego de guerra, como para iniciar a neófitos en el mundo del wargame, y es un reto más que aceptable para un fogueado grognardo (os lo puedo asegurar, ¡ojo con el Oso ruso!).