DW:U BalanceMod + Extended

click on image for larger version
Full overview of all branches, thank you dwaine (post 85):
fb.asp?m=3632950
Distant Worlds: Universe
(Original)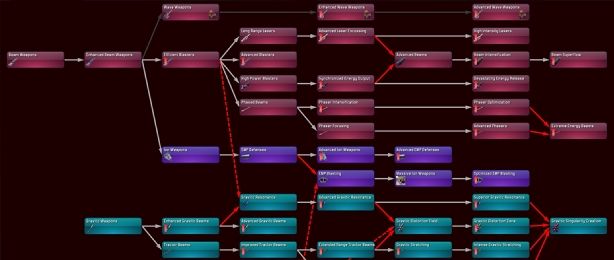 Thanks to
dwaine
for the comparison screenshot idea!
This mod stretches the tech tree of
Distant Worlds: Universe
.
It also includes a version compatible with
Distant Worlds: Extended
(by
Haree78
).
tm.asp?m=3141149
One of the major problems of Distant Worlds is, that with a low research cost setting, the tech tree is too short, and with high research costs, the pre warp start grants the pirates a major advantage over normal empires.
Another problem is, that there are wrap up end game techs (eg titan beam), which kill tech diversity and make other techs nearly useless.
Also, superweapons and wonders are overpowered in the base game.
Features:
- nearly 200 additional research projects
- rebalanced early expansion/hyperdrives, and thus the pirates
- rebalanced weapons, armor, shields, repairbots and other combat gear
- superweapons included but nerfed
- rebalanced colonization
- nerfed wonders
- and lots of other stuff
Compatible versions (and backups) for
DW:Universe 1.9.5.2 and
DW:U Extended 1.0.1
The DW:Universe version is compatible with all mods based on that, which do not modify the
research.txt
components.txt
facilities.txt
This includes the following mods:
Star Trek Universe (checked for 1.3.3)
Distant Worlds XPanded (X-Series mod, checked for 1.0b)
edit: the mod has been cancelled due to the modding changes in 1.9.5.5

the current version has been removed in protest to the unilateral and unoptional font increase in 1.9.5.5, which irreversibly punishes those users who choose their hardware/software carefully, after they purchased the game
changelog
v0.87
- fixed reactor sizes and costs
- fixed level 0&1 countermeasures/targetting/medicine values (minor fixes)
v0.86
- revert because of unadressed DW:U energy balancing bug
v0.9
- 100 additional research projects (new and gap fillers)
- rebalanced most weapons (especially beam weapons and the added Superweapons)
- rebalanced reactors to 1/3 the size and stats for better custom fitting (AI and player)
- added and rebalanced shields
- rebalanced repair bots
- whole HighTech research tree rebalanced and projects added
- wonders nerfed
v0.83
- fixed the improved and superior Quantum MicroUtilization parents
v0.82
- workaround for research cost settings, now works up until 999K research costs (lowered level 9-11 research costs to level 8 standard)
- Enhanced Hyperdrives positioned in level 1 column, so pirates have them. The costs stay the same.
- targeting and countermeasure tech paths changed
- targeting and countermeasure racial techs now grant the fleet components as well
v0.81
-fixing level 1 armor value (corrects this for savegames as well)
-fixing "reinforced construction" parent (does not seem to be corrected in savegames)
v0.8
-WIP release
Installation
First make backups of the relevant research.txt, facilities.txt and components.txt files,
the included backups may not be up to date when you use them.
To install the mod, just overwrite the corresponding files in the
root directory of DW:Universe, or in the \Customization\DW Extended Universe
folder in case you want to play with the DW:U Extended Mod.
It is work in progress.



No republication

in any form is permitted (for now) that includes compilations.
DW:U modding is complicated/restricted enough, different versions floating around, with minor incompatible bugfixes and changes, would certainly not help in this respect. And those tend to come up if non centralized distribution is allowed, so not for now.

It is set up for easy extensions/racial tech mods for the future (racial techs are all seperated from the main research projects in terms of project ID). If you want to use it for a mod, write me on steam ("relnu") and we can talk about what to do until this mod is in a more polished state.
Now works with all research cost settings.
Named in honor of
Captain Kwok's SE:5 Balance Mod,
which drastically increased the fun/playability of SE:5.