[center]
[font="Trebuchet MS"]KALTHANIELL'S SHIPYARDS[/font]
[/center]
Here you can find custom shipsets which I made. All images are 500x500 for bases and bigger ships, the rest is 300x300. This way the ships can look really well even when size over 1300 without decreasing game performance (especially on slower PCs). The ships were made using various artwork found on the internet, or ships from mods or games like Homeworld 2 or Sins of Solar Empire. Except from shipsets I've also made other addons like weapons effects or custom ships for minorsets (pirate ships). Hope you'll enjoy.
INSTALLATION INSTRUCTIONS
SHORT:
1.Extract .zip file to Distant Worlds\Customization\MyTheme\Shipimages
2.Change the newly created folder name to 'familyx' where 'x' is the number of the family you want to be replaced (ex. family1)
3.Start the game, change the theme from the main manu to 'MyTheme' or any other theme in which you installed the new shipset.
4. Start a new game and crush your foes with your new shiny ships.
LONG:
You need to extract a shipset to your Shipimages folder in the Customization folder in the game directory ( for example: C:\Games\Distant Worlds\Customization\Mod1\Shipimages). In shipimages folder a folder named 'familyX' should appear. In that folder there should be ship images named after thier ship classes (capitalship.png, cruiser.png etc). Now change 'X' in the folder name to the number of the ship family you want to be replaced by the new shipset. To know which number represents a certain shipset go to Distant Worlds\Images\Units\Ships. It's all there. After you changed the name of the 'familyX' folder to for example 'family2' you can start the game. Than active your custom theme from the main menu (here it would be 'Mod1' for example) and start a new game. The new ships should be there when you create a new design.
DISCLAIMER
: Those are the instructions for ROTS. I am not sure if something changed in Legends in terms of adding custom ships. Probably not, but I'll check and update this...
HOLIDAYS UPDATE
: I have already uploaded the new shipset and I plan to update and reupload all other files before the new year. If something will be updated and reuploaded I will mark it by the link for a set or addon.
THE FIRST SHIPSET
Based on ships from AFF Universe. I dind't try to make ships according to originall classes though, just used pieces of AFF ASIN ships to patch up these. Below is the preview of the ships and some in-game screens.
[Unzip to your shipImages folder. Folder is named 'familyX' so just change 'x' to the number of the race you want to use the ships. Most of you probably know that already though
] Enjoy.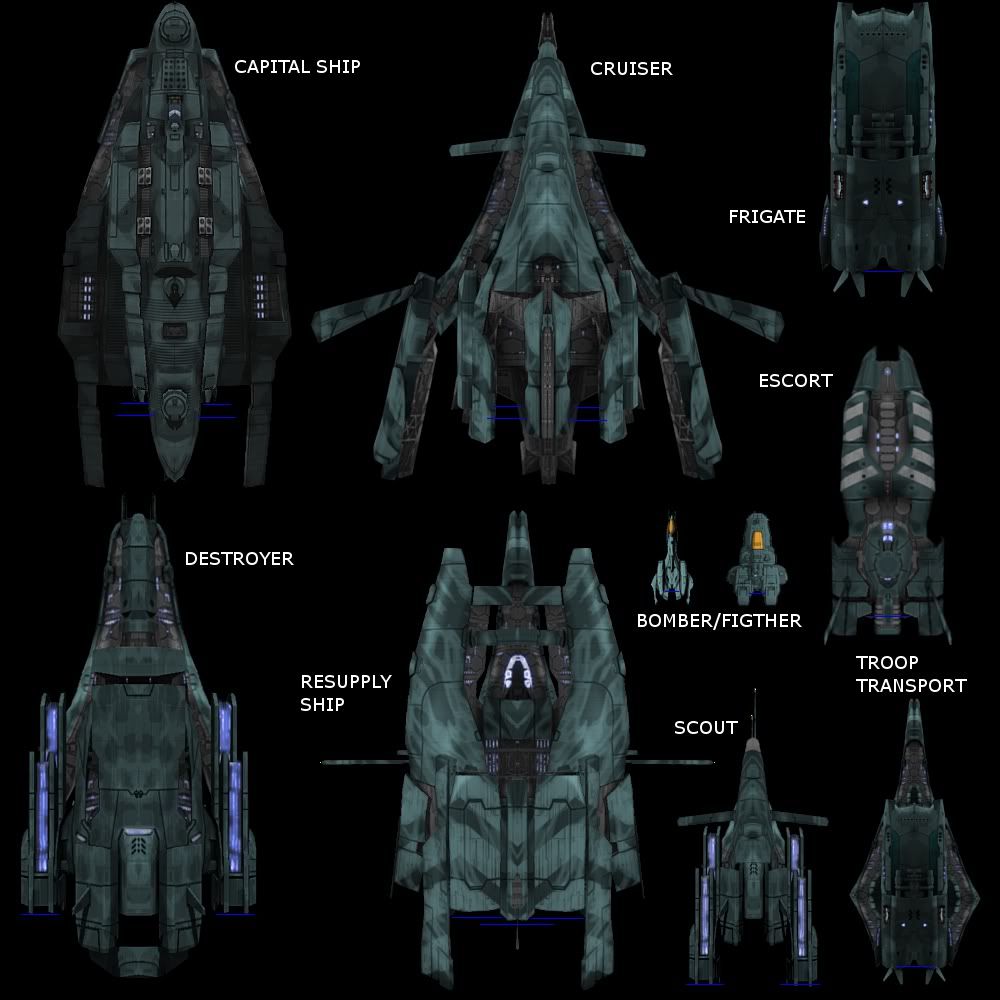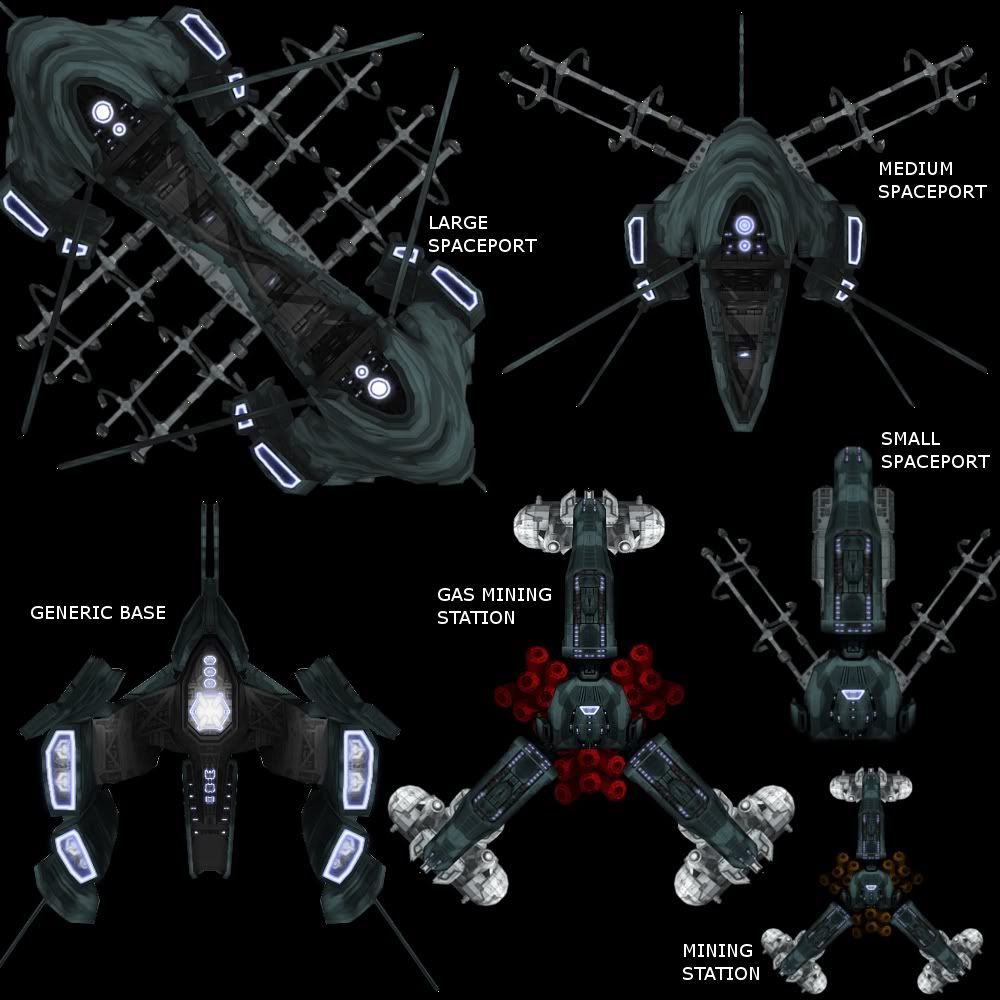 THE SECOND SHIPSET
Also based on ships from AFF.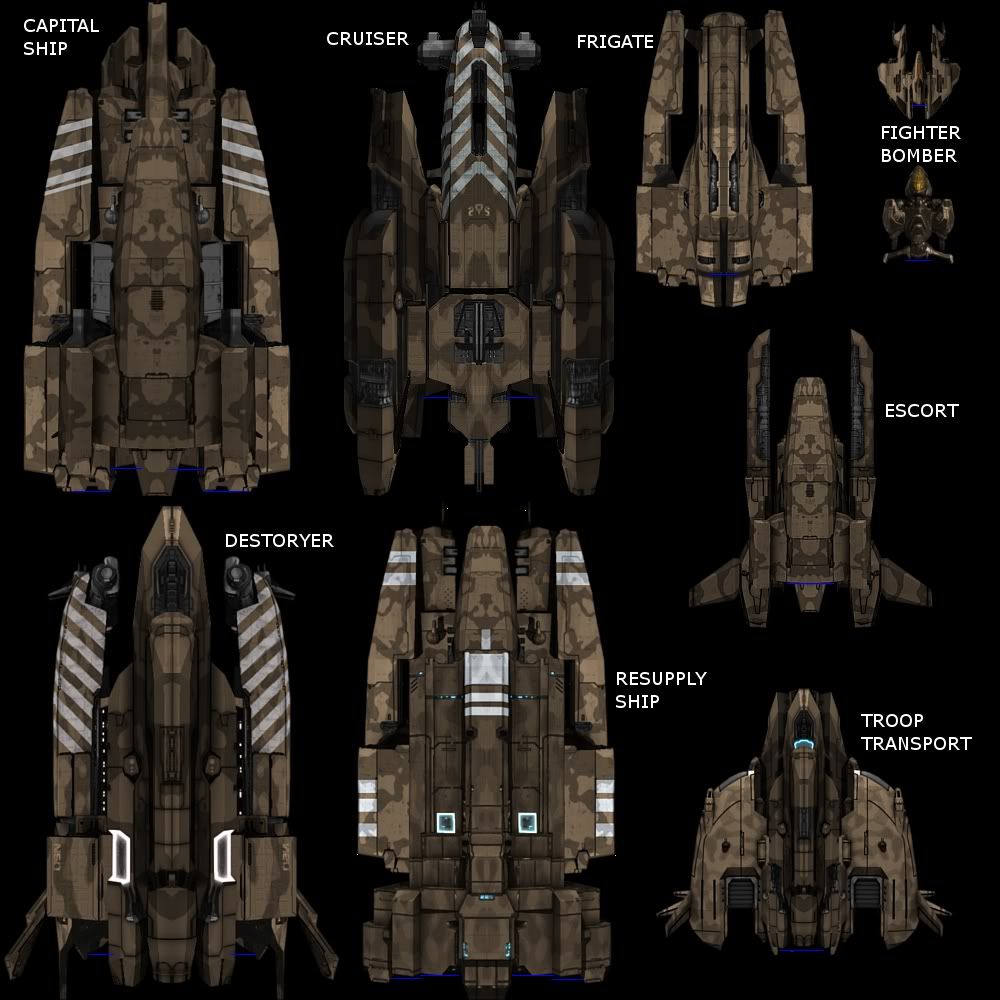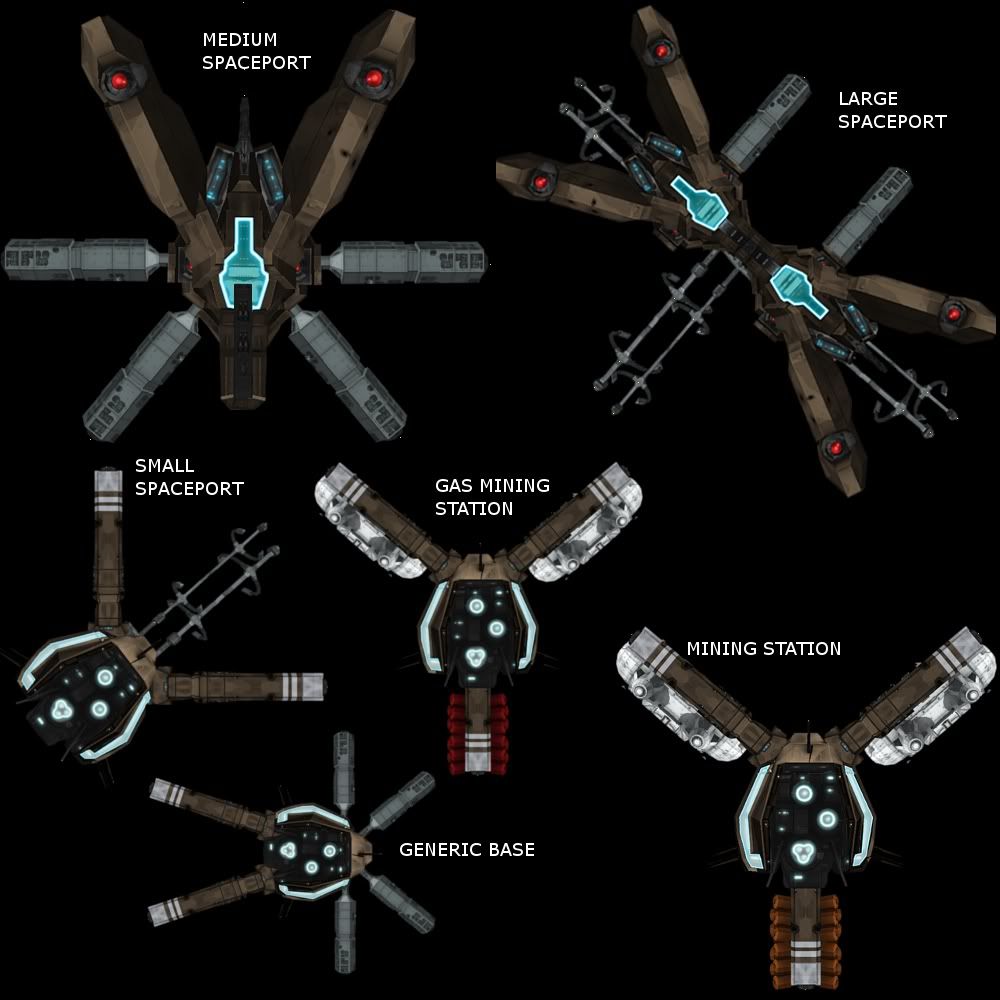 THE THIRD SHIPSET
Inspired by the Hiigaran race from Homeworld 2 (clearly). This time I wanted to give the ships more normal 'human' look, so I introduced the characteristic blue/white lines colour scheme and white symbols. The resources for the shipset were taken from AFF ships and Homeworld 2 ships. The badge was made by team creating R.E.A.R.M. mod for Homeworld 2.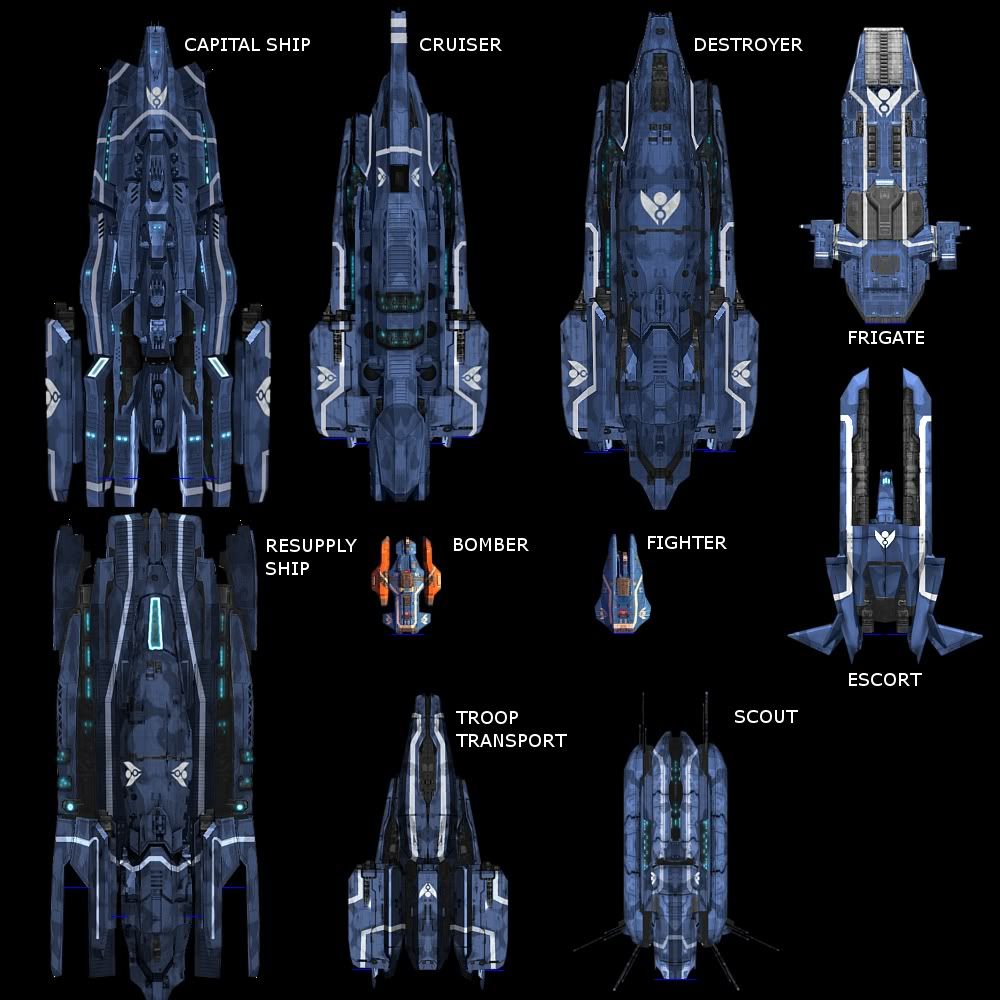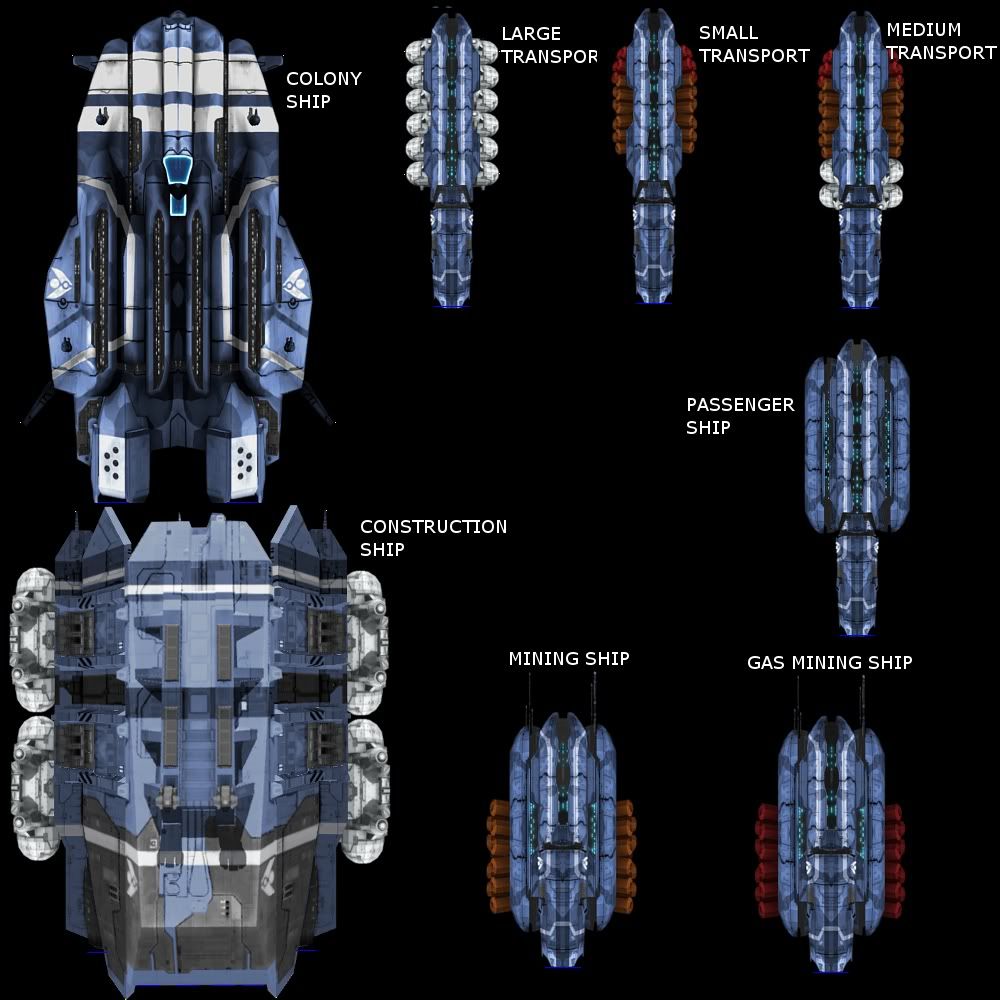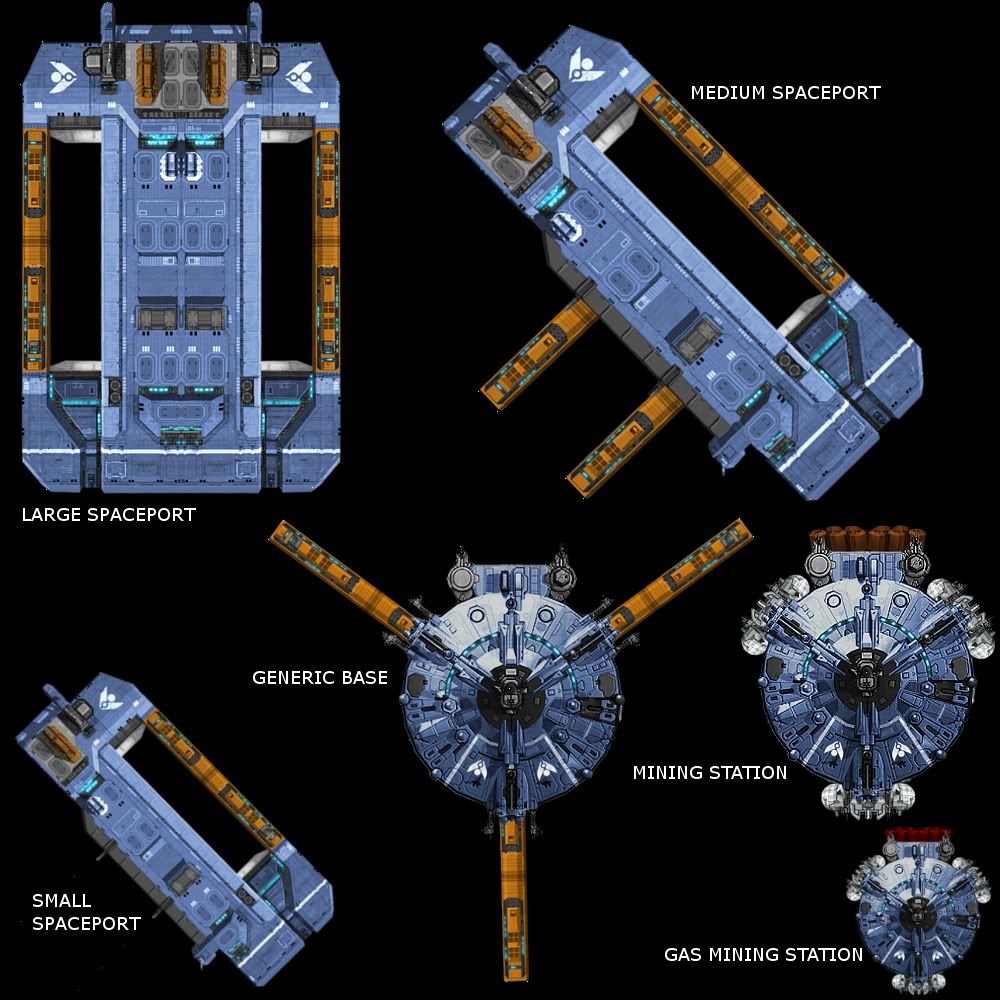 THE FOURTH SHIPSET
This shipset was made using the amazing graphics from Sins of Solar Empire. I used mostly Advent ships and bases. It's the first more alien-looking shipset released by my shiprayds. Initially I intended to release two versions (first magneta and next gray) but the second colour scheme did not look good at all on some of the ships. Enjoy.
I fixed some problems with lights and remade engines of some ships. Most notably the destroyer and freighters.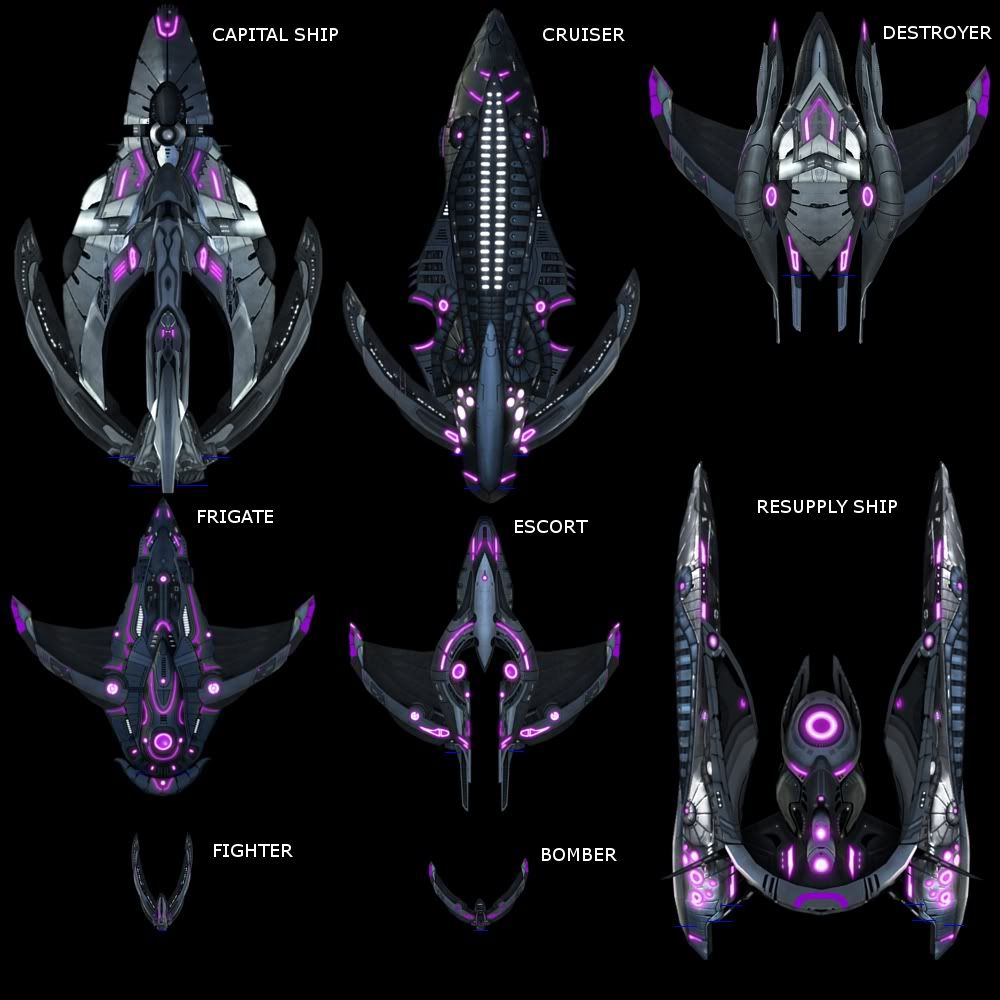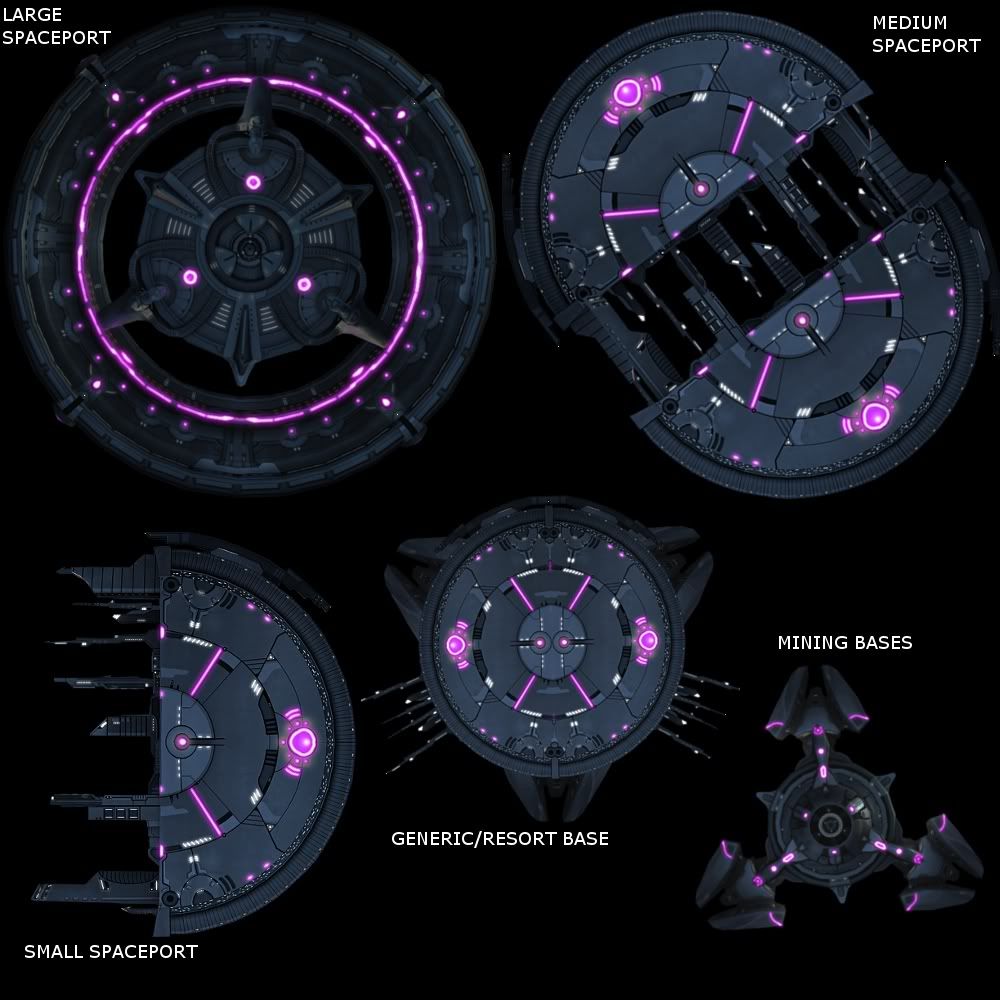 THE FIFTH SHIPSET
Clearly inspired by Romulan designs from ST. Ships were made using artwork from Sins of Solar Empire (Diplomacy), mostly of the Vasari race. This is the first of two shipsets based on Vasari ships.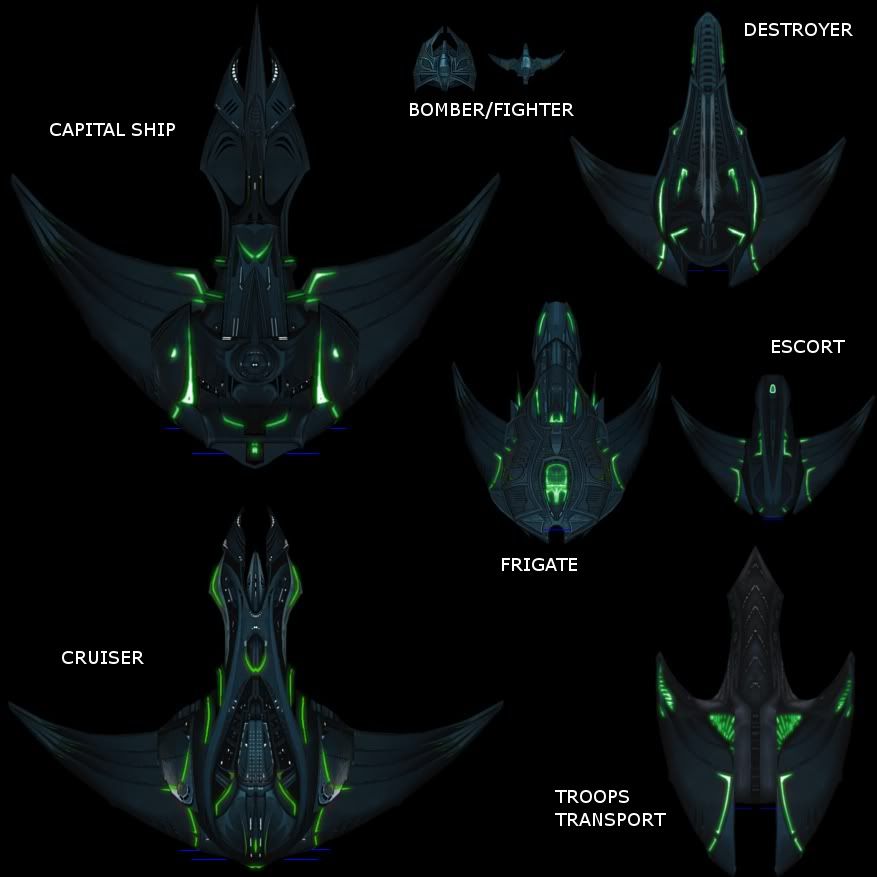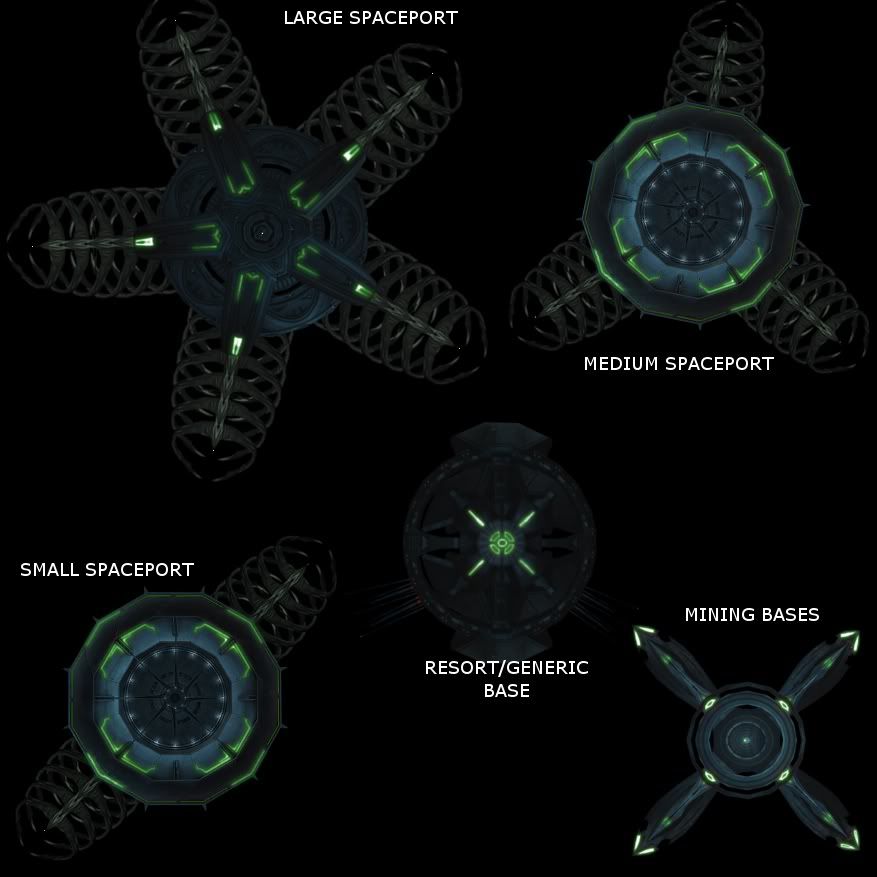 THE CHOCOLATE SHIPSET
Hand made holidays special chocolate shipset
. I made this one myself from grounds up because I wanted it to be special. It's nothing fancy, as I had to squeeze it out of my free time the last three weeks, but it sure was fun designing it[:D]. I had no way of testing it so there might be some minor problems I guess with lights and engines. Report anything like that to me, so I can repair it. This shipset is DW Legends compatible (it has a carrier:P). Here's a preview, have fun and HAPPY HOLIDAYS everyone!
CUSTOM PIRATE SHIPS
Updated 07.08.11
"Tired of traders laughing when you attack them, because your ship looks like Atuuk schoolbus? Still haven't found a vessel that would instill fear in your enemies? Well, look no more, because Kalthaniells Shipyards have just what you need - totally bad-ass pirate ships with awesome pirate markings!"
[:'(] I made a couple of ships for minorsets. More will come when I make more shipsets. Not sure you can create shipImages folder for minorsets in your Customization folder, so you'll probably need to replace the orginall files in the main directory (Distant Worlds\images\units\ships\other\MinorSets). Just replace any of the ships with the ones from familyX and familyX3 folders.
I added three new ships repainted from human shipset.
Here's the presentation of the ships (all 500x500):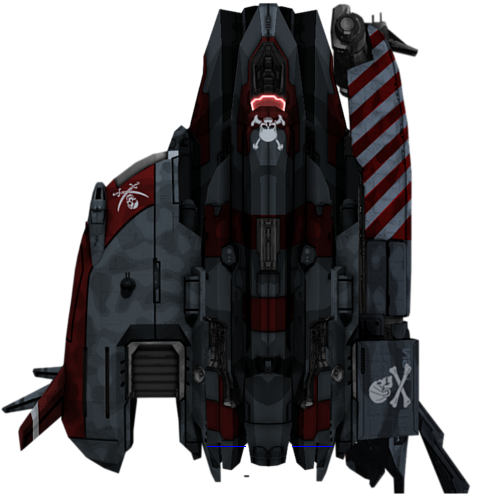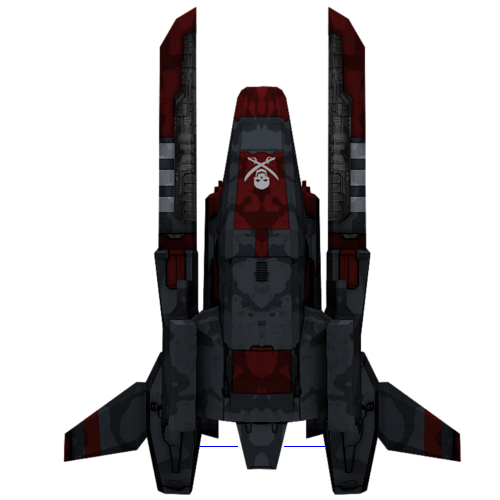 WEAPON MOD
As requested, I'm uploading the weapons projectiles I use. Some of these I made using images I found while googling words like 'torpedoes' or 'projectile', so I wouldn't be surprised if someone would already had done something very similar. Fortunately, most of it I made myself using Gimp. Same as with pirate ships, you'll probably need to replace your orginall files (Distant Worlds\images\effects\weapons) so make backup. Along with weapons I included shileds effect I made - it should go to Distant Worlds\images\effects\other.
V2 The new version includes all beams, torpedoes and some missles I did use, am using and am about to start using. To use the effects you like you need to replace the original file with any of the ones from the mod and change it's name so it is the same as the original. Remember that there is a limited number of weapons you can use at once in one mod. A word of warning - some torpedoes make cool beams but it does not necessarily works the other way around. Here's a preview, so you know how does this weapon pack looks like:
NEW PLANETS ADDON
I decided to convert planets from Sins of Solar Empire to DW. Yup, all six of them (shock). Turns out there are only two planets of each type in the game (guess Ironclad games in not too big on enviromental diversity). Luckly with the use of some Gimp Magic I managed to make 25 new planets. I use planet mod introduced by Igard, so my planets replace the ones his mod does not (except for the ones with scary amount of yellow or white in them). This way both can be used simultaneously. If anyone of you will use this addon I suggest downloading Igard's Planets Collection, too. Here are link to the thread and a preview:
tm.asp?m=2537349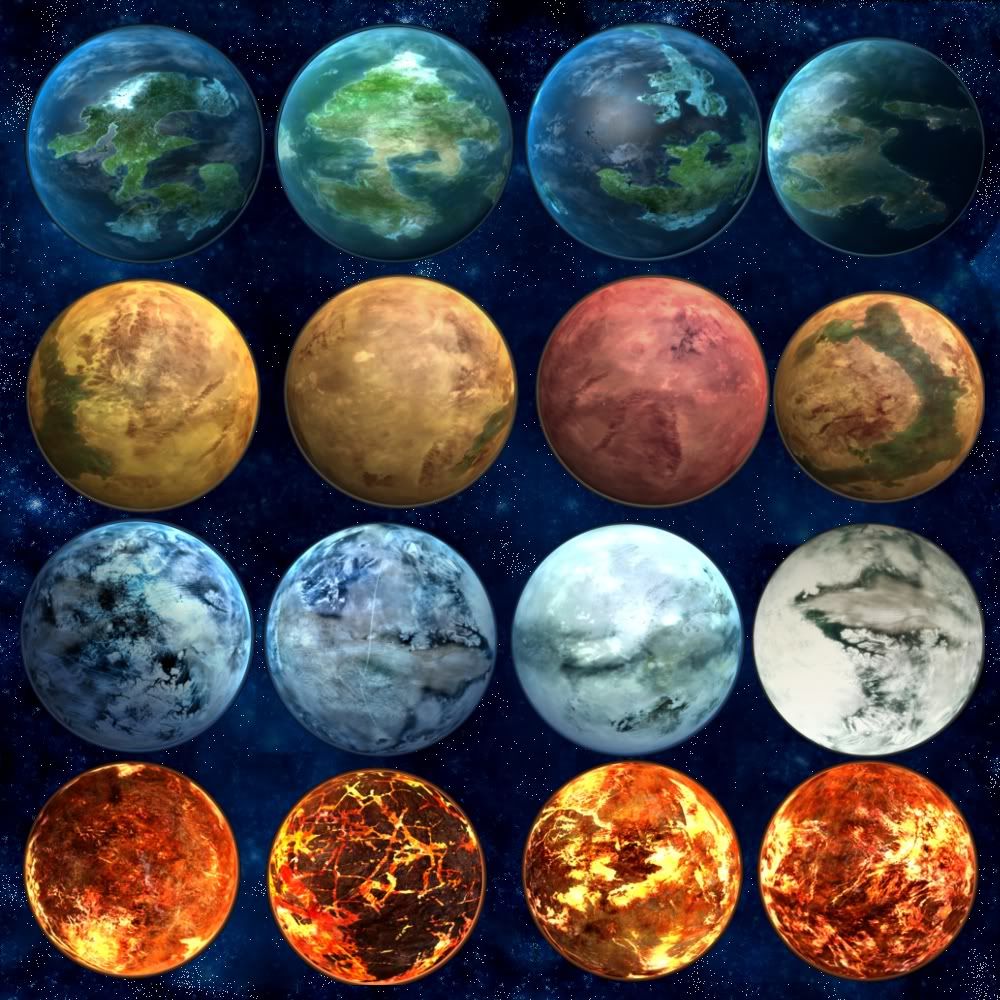 DOWNLOAD LINKS:
UPDATED
Download link for
shipset 1
:
http://www.mediafire.com/?63lzn31ds2ac996
UPDATED
Download link for
shipset 2
:
http://www.mediafire.com/?m9fb1hi1b7chm97
UPDATED
Download link for
shipset 3
:
http://www.mediafire.com/?it1e3vmt3myvj4u
UPDATED
Download link for
shipset 4
:
http://www.mediafire.com/?by0cjrcqa4ccgp5
UPDATED
Download link for
shipset 5
:
http://www.mediafire.com/?aw49qqwwwbngze2
Download link for
chocolate shipset
:
http://www.gamefront.com/files/21118706/familyX.zip
Download link for
Custom Pirate Ships
:
http://www.gamefront.com/files/20645905/Pirates+V2.zip
Download link for
Weapon Mod
:
http://www.gamefront.com/files/20584156/Weapon+mod.zip
(old version)
http://www.gamefront.com/files/20486873 ... hileds.zip
Download link for
New Planets Addon
:
http://www.gamefront.com/files/20645911/Planets25.zip
Some of you have asked for my older ships. I made them long ago and I must say they don't represent the peak of my modding prowess so to speak *cough* *cough* but if anyone of you like them please feel free to use them for your mods or making your own custom races or shipsets. Here's the link (it's on mediafire so they'll be still up after the world ends
CUSTOM SHIPS
(aka old space clankers and assault garbage cans)
http://www.mediafire.com/download.php?00fqy24f9jc3ydh
Any feedback is good, positive feedback is even better
. I didn't test the ships too long so if theres any problems with lights or engines let me know.