WEGO World War II: Stalingrad - Scenario AAR
To help illustrate some of the game play in
WEGO WW2: Stalingrad
, Saint Ruth and I have squared off to play the Fatal Bridgehead scenario. Saint Ruth will play the Allies (Soviets) and I will play the Axis. I'll start off.
Historical Background: As the Soviet 62nd Army and 4th Tank Army attempted to stop German Sixth Army's advance on Stalingrad, General Kuznetsov's 63rd and General Danilov's 21st Armies launched a counter-offensive against the Italian and German forces defending along the southern bank of the Don River west of Serafimovich. This offensive would gain the Soviets a vital bridgehead that would play a decisive role during Operation Uranus.
Axis Mission: Defend to retain the Don River defensive line.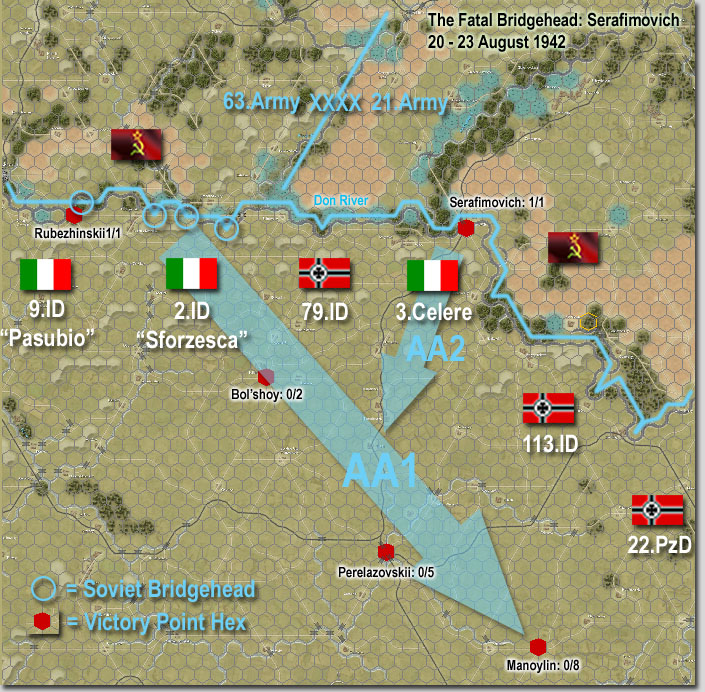 Enemy Forces: We are facing two Soviet armies currently deployed North of the Don River. However, they have four single-hex bridgeheads South of the Don in the Italian 2.ID sector. This area is the main threat. The ratio of enemy to friendly forces is as follows (Allies vs Axis):
Men: 1.87 to 1 (favors Allies)
Vehicles: 1 to 1.12 (favors Axis)
Guns: 1.04 to 1 (favors Allies)
Planes: 1 to 1.25 (favors Axis)
Obstacles: The Don River cannot be crossed by ground units. This will restrict initial Soviet offensive launch points to their four bridgeheads and/or across the bridge at Serafimovich. The enemy has bridge engineer assets that could be employed to create additional bridgeheads over the Don.
Avenues of Approach: AA1 starts at the four bridgeheads over the Don and passes south through the open terrain between Yagodnyy and Devyatkin to Bol'shoy (VP location). Between Bol'shoy and Perelazovskii it is wide open tank country. At Perelazovskii, the North-South stream provides a potential defensive line forward of Manoylin. AA2 crosses the Don River at the bridge in Serafimovich. Rolling steppe south of Serafimovich provides a potential defense line across the avenue to halt an advance to the South and a link-up with AA1.
Time: This scenario covers four days of operations (19 turns).
Troops Available: Six Axis divisions are available at the start; three Italian and three German. Five are infantry divisions and one is a panzer division. In addition, Italian 8th Army and XXXV Corps artillery is available. Air assets are limited given other operations in German 6th Army's area of operation.
Assumptions about Enemy intentions:
- Soviets will try and take all three immediate objectives (VP locations Rubezhinskii, Bol'shoy, and Serafimovich).
- Soviet main attack will be in the center against the Italian 2.ID using armor and Guards infantry.
- Soviets will attempt to bridge the Don River in a fifth or sixth location to fix Axis forces located to the West and East of 2.ID.
Priority Intelligence Requirements.
- Identify location(s) of bridging assets.
- Identify location of armor units.
- Identify location of Guards units.