"Sir, another two DRADIS contacts. We can't keep this many back."
"We will hold!" yelled the captain. The knuckles of both hands were strained white as he gripped the table edge. "For the people of Gemenon, we will hold!"
Kelly Roeburne looked at the man she had loyally served through twenty-three conflicts, and eight years of service. Another clustered detonation rocked the CIC around them. "Gemenon is
already lost. We will only add to their casualties if we stay."
Her insubordination was met with a hard stare. "Unless you plan to mutiny, XO, I recommend you return to your station and prepare to engage the enemy."
The thing that would haunt Kelly in the years to come was how easily she lifted her sidearm and pulled the trigger. "The captain has fallen in battle, and I have taken command of Battlestar Atreus. Prepare for FTL on my mark."
Attention, nuggets! We've got a lot to get through with this diary entry, and I don't want you to miss a single beat of it.
Let's cut right to the chase. There's a huge update on the way, with some significant improvements and features added, based on community feedback. There's some features included that have been popular requests since day one, and some new ideas we've had to improve the overall experience.
There's a LOT of stuff coming in the update, some of which we have already talked about. Today, we'd like to highlight three more big additions.
Intelligence Report
Renovations have been ongoing on the Daidalos, and under Helena's supervision, the CIC has been fitted with a brand new signals and intelligence division.
This is a complete overhaul of the campaign's economy screen. The Intelligence screen gives commanders a one-stop location for strategic and economic analysis. In addition to tylium income, the screen also gives information about each colony's Quorum status, any bonuses the Daidalos is receiving, and all current Colonial Fleet objectives.
The most powerful tool on this screen, however, is the SIGINT Advisory. Using all available resources to collect and disseminate signals and communications intelligence, Helena and her team can provide you with up-to-date information on mission objectives, colonies that require help, and sometimes even Cylon movement that would otherwise be hidden behind the fog of war.
With all of these new tools at your fingertips, you will be able to make better, more informed strategic decisions as you defend the Twelve Colonies.
Squadron Groups
This will come as good news to the commanders that love their carriers.
Fighter and utility squadrons will be assignable to Squadron Groups, allowing for single commands to disseminate to multiple squadrons. Use this to customise your fighter tactics on a larger scale, and manage your Raider swarms with the efficiency of a…well, a sentient robot.
Squadrons can be assigned to one of four Squadron Groups - Red Squadron, Blue Squadron, Green Squadron and Yellow Squadron - or unassigned, to maintain its independence.
Keeping these updates to squadron controls in mind, it might also worth keeping an eye out on the subsystem stats of certain carriers…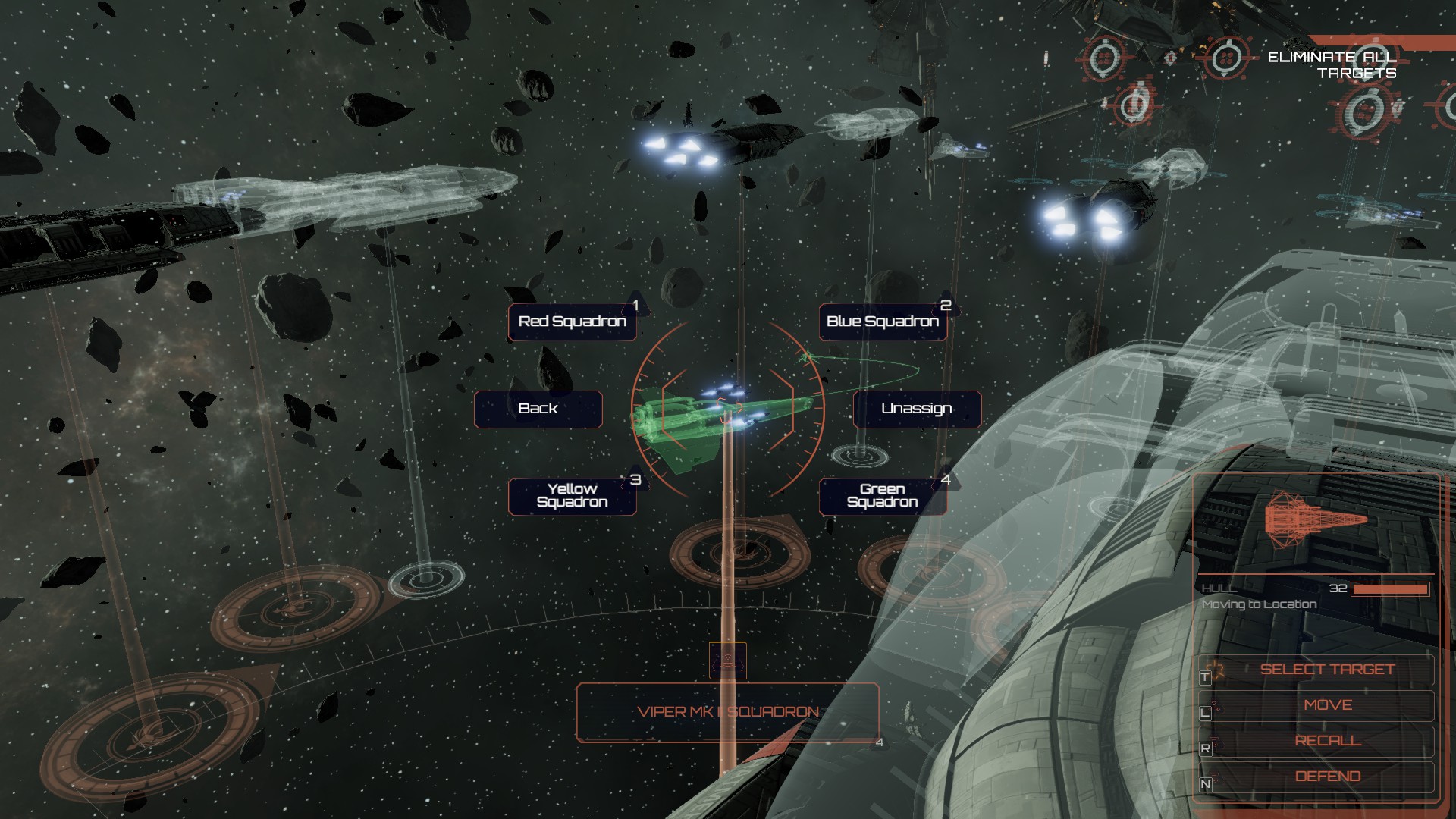 FTL Retreat
A long requested feature has been the ability to retreat units from the middle of a combat. And while we've agreed that the feature would be fantastic, there's been a lot of design work required to make sure it is implemented correctly without disrupting the campaign's stability.
As of the Firepower Update, you will be able to give the Retreat command to individual units in resource missions and roaming battles. (The feature is NOT available for Story Missions.) It will take a couple of rounds for the unit's FTL drives to spool, and in the process use a decent amount of tylium to get the drives up and running so quickly. If the unit survives the wind-up time, then it will FTL out to safety.
Once the battle is completed, the fleet will then regroup all of its units together at a randomised location, minimising the amount of fleet management required to get your forces back into shape.
Also note that officers that flee from battle will not be awarded any Experience Points for events they are not present for! When a fight gets tough, it'll be up to you to decide whether the officer should stay and risk their life, or jump away to safety.
The Wrap-up
We're excited to roll this huge update out to our community. It's been a very busy couple of months for the Black Lab Games team, as we will soon be welcoming our console communities to Deadlock, as well as some future announcements on content updates.
In the meantime, keep your ships in the air, and the toasters out of your systems. So say we all!